This Chicken Pasta Salad recipe has been a favorite of my husband's and youngest daughter's since the beginning of time, at least our time together. I put this recipe together back in my single days because sometimes it is just too hot to cook. It has stood the test of time and is requested my one of them pretty consistently. My husband really likes taking it for lunch and I like that it is easy to make and I can just put some in a container with some lettuce and his lunch is done. Always nice at 7:00 in the morning, when I'm also trying to make him some breakfast while still having sleep in my eyes. It's also a great addition to a barbecue, which everyone loves this time of year. I hope you will enjoy it too. 
The ingredients are pictured below, besides the grape tomatoes, which I forgot to add to the picture. Usually I use the tri-colored Rotini, but somehow I picked up the wrong box in the store, so this time it is just the white ones. 
Also, I use Almond milk for most things because we have some dairy intolerance issues in our family. Oddly, only to milk and ice cream, thank goodness. I'm not sure we could survive without cheese! If you like cow's milk, you can substitute that in the recipe. That is how I originally made the recipe.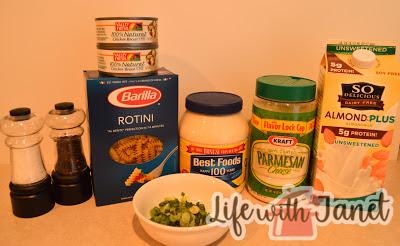 When I make this in the summertime, I try to make it early in the day so the pasta boiling doesn't heat up the house.  Also, I have canned chicken for this recipe, but you can use chicken breasts that you have cooked yourself if you like. The key here is to be sure to shred the chicken so there are no big pieces. Like the photo below. 
The finished product. It is really a yummy, easy, great recipe.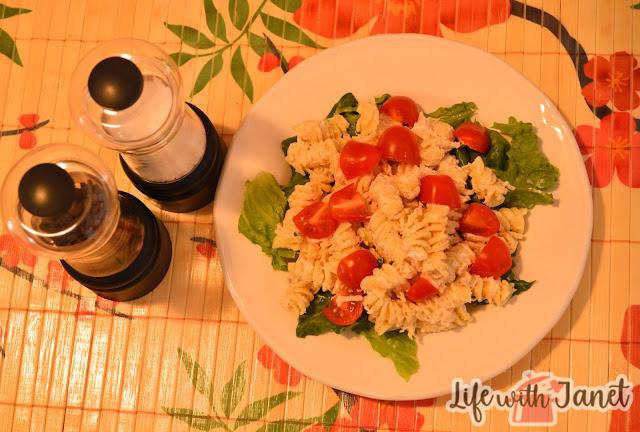 Ingredients
12

oz.

Rotini Pasta

cooked and cooled

3/4

cup

mayonnaise

3/4

cup

grated Parmesan cheese

10

oz

shredded chicken breast

1/2

tsp

salt

1/2

tsp

pepper

3

Tbsp

milk

1/4

cup

sliced green onion

1/2

cup

sliced grape tomatoes

Torn Romaine lettuce
Instructions
Cook the pasta according to package directions, drain and cool. While the pasta is cooling, in a large bowl, mix the mayonnaise, Parmesan cheese, shredded chicken breast, salt, pepper and milk until smooth. If it seems little too thick, add a touch more milk.

Add the cooled pasta to the mayonnaise mixture and mix well. Add the green onions and tomatoes and mix again. Chill for several hours.

Serve on a bed of lettuce.