Crunchy cereal held together by a delicious mixture of chocolate, peanut butter and maple syrup – so simple and so good. These bars call for 5 basic ingredients, take just about 10 minutes of foolproof preparation, taste wonderful and are actually good for you. Not to mention, the chocolate peanut butter combo is quite the crowd-pleaser.
Traditionally, rice crispy treats rely on rice crispy cereal (duh!) and marshmallow fluff and while I won't deny the results taste wonderful (because: SUGAR) and are very low fat, they are still decidedly unhealthy (again: SUGAR).
I wanted to create a recipe you'd love just as much but that would only call for unrefined, plant-based and gluten-free ingredients. And after a couple tries, here it is. All healthified and upgraded to a chocolatey treat.
In my favorite version, I prefer to use whole-grain puffed rice as the base instead of rice crispy cereal as it has more fiber and is generally less processed and naturally free of gluten. However, if you love the rice crispy crunch, you can absolutely use the cereal (just make sure to find gluten-free ones if you're avoiding gluten). It's not too terrible for you and thanks to the rest of the ingredients, you'll still end up with a very healthy treat 😉
Speaking of other ingredients, you won't need anything like marshmallow fluff because we're going to stick the puffed rice together with maple syrup, all-natural peanut butter and melted chocolate.
This is the part where you should get REALLY excited.
As far as preparation goes, you'll just need to melt all the wet ingredients in a microwave (or on the stovetop if you're anti-microwave), combine with puffed rice or crispies and pour into a pan. Then you just pack the mixture in and wait for it to set. You can also throw the pan in the freezer if you're in a hurry.
Did I mention it was easy?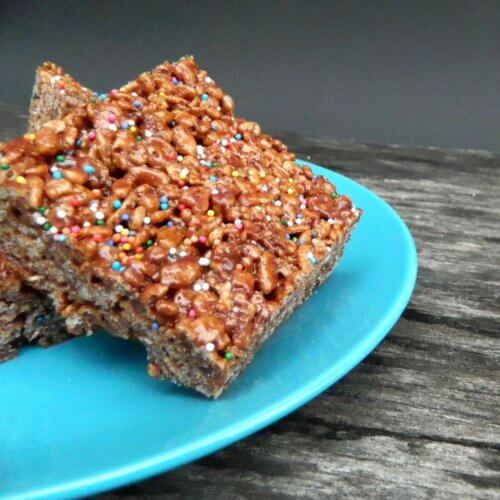 Ingredients
4

cups

100 g puffed rice (whole-grain is best) OR gluten-free rice crispy cereal

4

ouces

100 g dark chocolate (dairy- and refined sugar-free if possible)

½

cup

120 g all-natural peanut butter (or another nut or seed butter)

½

cup

160 g maple syrup

dash of salt

omit if peanut butter contains salt

optional: ½ teaspoon vanilla
Instructions
Combine all ingredients except for the puffed rice in a medium bowl and microwave till the chocolate melts. I like to do this in 30 second increments and stir the mixture after each one (this helps overheating and thus ruining the chocolate).

Once everything is liquified, whisk all ingredients until combined and set aside to cool slightly. You want it to still be liquid but not too hot (you should be able to hold your finger in it).

Prepare an 8×8 or 9×9 pan by lining it with parchment or plastic foil.

Transfer the puffed rice or rice cereal into a large bowl and pour the chocolate mixture over it.

Mix thoroughly and pour into the prepared pan.

Spread evenly and push into the pan to make sure everything sticks together nicely.

Let set in the fridge or freezer till firm.

Cut into squares and enjoy!