Do you love chicken tenders? Of course, you do! Today, I am going to share another amazing variation of chicken tenders. If you have guests coming over or have game or movie night then this is going to win the hearts of everyone. These are bacon-wrapped chicken tenders that are crunchy, tender, and juicy. I have tried this recipe so many times and on most occasions. The compliments I get are amazing and everyone loves it.
If you have kids at home, then this recipe is a must for you. You can prepare it ahead and freeze it in bulk. The kids will have this delicious meal to eat at home whenever they are hungry and you are at work. Moreover, you can serve it as an appetizer or side with your meals at dinner.
What to serve with bacon-wrapped chicken tenders?
These oven-baked delicious meals can be served with other sides as well. You can simply make some fries, wedges, or baked potatoes to go with this meal. The bacon itself makes the chicken tenders a double treat but you can make some ranch dressing to go with it. Moreover, ketchup or any other BBQ sauce can also go with these bacon-wrapped tenders. I make some salads as well so you can get protein and other nutrients in your meal.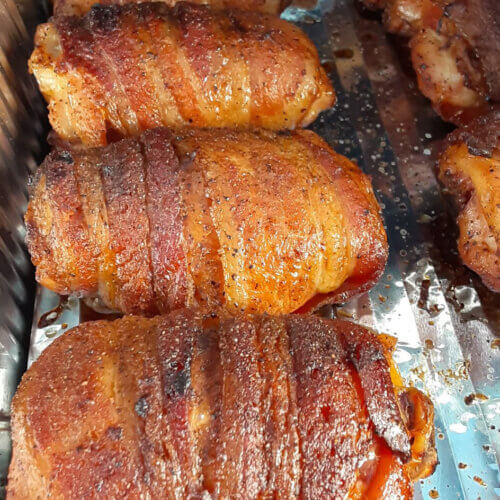 Bacon Wrapped Chicken Tenders Recipe
Do you love chicken tenders? Of course, you do! Today, I am going to share another amazing variation of chicken tenders.
Print
Pin
Rate
Ingredients
Bacon strips 10

Onion powder 1 tsp

Garlic powder 1 tsp

Chicken tenders 10 piece

Italian seasoning half tsp

Brown sugar ⅓ cup

Paprika half tsp

Chili powder 1 tbsp

Salt and black pepper to taste
Instructions
Preheat the oven to 350 degrees F. Combine all the ingredients in a bowl except chili powder and brown sugar.

Rub the spices on the chicken tenders and make sure they are properly coated.

Take a bacon strip and wrap it around the chicken tenders one by one.

In another bowl combine the chili powder and brown sugar. Mix it and coat the wrapped tenders with it.

Put the chicken tenders in a baking tray and heat it for 30 minutes until the bacon seems crispy from the outside.

Serve it hot and fresh from the oven with any of your favorite dressings.
Storage of bacon-wrapped chicken tenders:
If you have some leftovers then you can use them for your next meal. Just make sure to keep the cooked meal in an airtight container. You can use it in the next 2-3 days and it will taste perfect. Moreover, you can freeze the tenders in an airtight container in the freezer for 2-3 months. It is perfect for the guests and friends who come unannounced and you need something to serve them.
Variations to try for this recipe:
You can use smoked bacon instead of the regular one to give an amazing taste
Turkey bacon can be a great variation for this recipe, especially in the holiday season
You can use an air fryer for this recipe by cooking it for 25-30 minutes at 400 degrees F
Does the chicken get properly cooked and wrapped with bacon?
Yes, of course. A lot of people have complained that their chicken is a little pink below the bacon. It is because of the bacon not the uncooked meat.