Hello everyone! Today I want to share with you my recent discovery of a traditional Czech pastry called Kolacky. It all started when my grandma showed me a picture of her childhood memories of making these delicious treats with her family. I was immediately curious and asked her to teach me how to make them. Unfortunately, she didn't remember the recipe, but she told me about the history and cultural significance of Kolacky.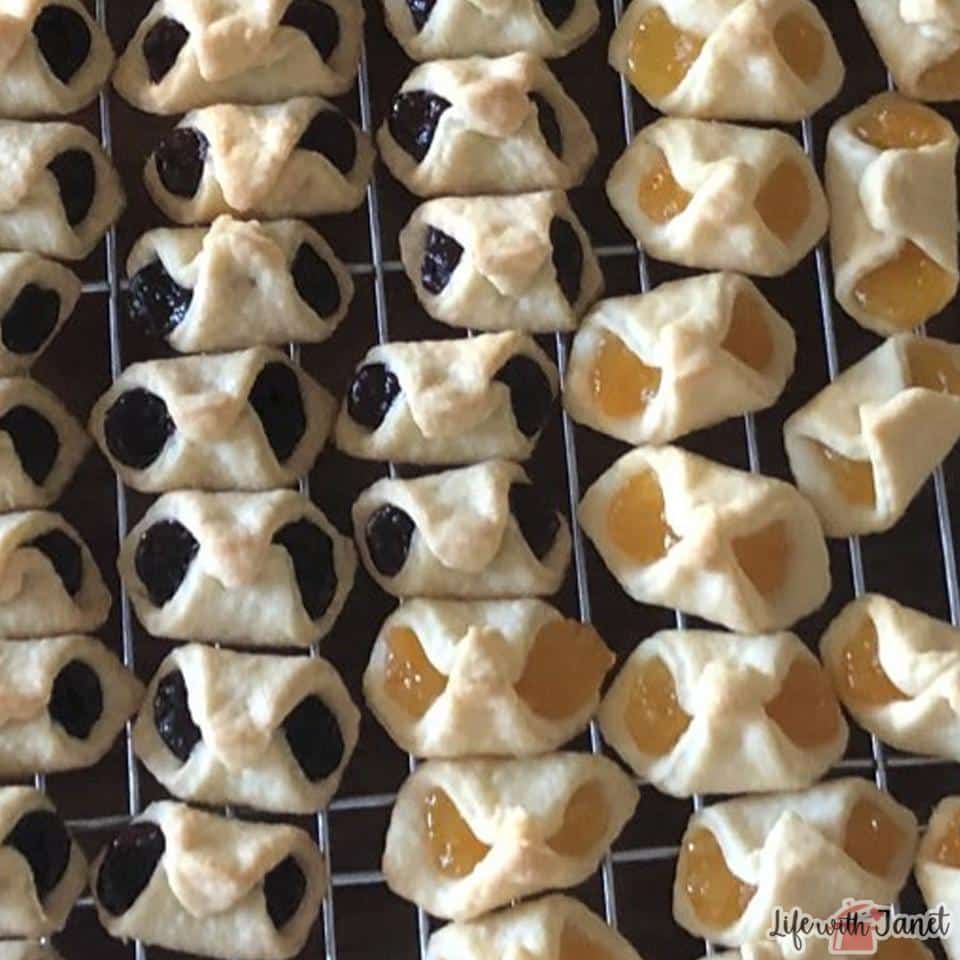 Kolacky is a type of pastry that originated in the Czech Republic and has become a staple in Czech culture. It's a sweet, buttery dough filled with a variety of fruit jams or nut fillings. The name "Kolacky" comes from the Czech word "koláče," which means "little circle." The pastries are typically round or crescent-shaped, and they are often decorated with confectioners' sugar.
I was fascinated by the history and cultural significance of Kolacky, so I decided to do some research and learn more about this delicious treat. I found out that Kolacky is often served during special occasions and holidays, such as Christmas, Easter, and weddings. They are also a popular treat for everyday snacking and are often served with coffee or tea.
After learning about the history and cultural significance of Kolacky, I was even more determined to make them. I went online and found a recipe, and I was surprised by how easy it was to make. The dough was simple to mix, and the filling options were endless. I decided to try a classic fruit filling, and the result was amazing! The pastry was flaky and buttery, and the filling was sweet and fruity. I was impressed by how a simple pastry could be so delicious.
Making Kolacky was a fun and rewarding experience, and I loved learning about the history and cultural significance of this traditional Czech pastry. I shared my creations with my friends and family, and they were all impressed by the delicious taste and presentation. I even received requests for more Kolacky, which made me feel proud of my new-found baking skills.
In conclusion, Kolacky is a delicious pastry that has a rich history and cultural significance. It's a simple and easy-to-make treat that is perfect for special occasions or everyday snacking. I encourage everyone to try making Kolacky and experience the joy and satisfaction that comes with baking these traditional Czech pastries. Thank you for joining me on this culinary journey, and I hope you enjoyed learning about Kolacky as much as I did.
Easy Kolacky Recipe
Kolacky is a famous recipe from Czech cuisine that people enjoy and make worldwide. I have never tried the traditional taste of it but have been making my grandmother's recipe for a long time.
Print
Pin
Rate
Instructions
Assemble all the ingredients.

In a mixing bowl, combine cream cheese and butter until creamy.

Gradually add flour to the mixture, blending until just incorporated.

Shape the dough into a ball, cover the bowl, and refrigerate for a minimum of 3 hours or overnight.

Preheat the oven to 350°F (180°C).

Roll out the dough on a floured surface to a thickness of 1/8 inch.

Cut the dough into 2 1/2 inch squares and place 1/2 teaspoon of jam in the center of each.

Fold opposite corners of each square together and pinch them to seal. Place the pastries on an ungreased baking sheet.

Bake in the preheated oven until golden brown, about 10-12 minutes.

Let the kolacky cool on wire racks and dust with confectioners' sugar before serving.