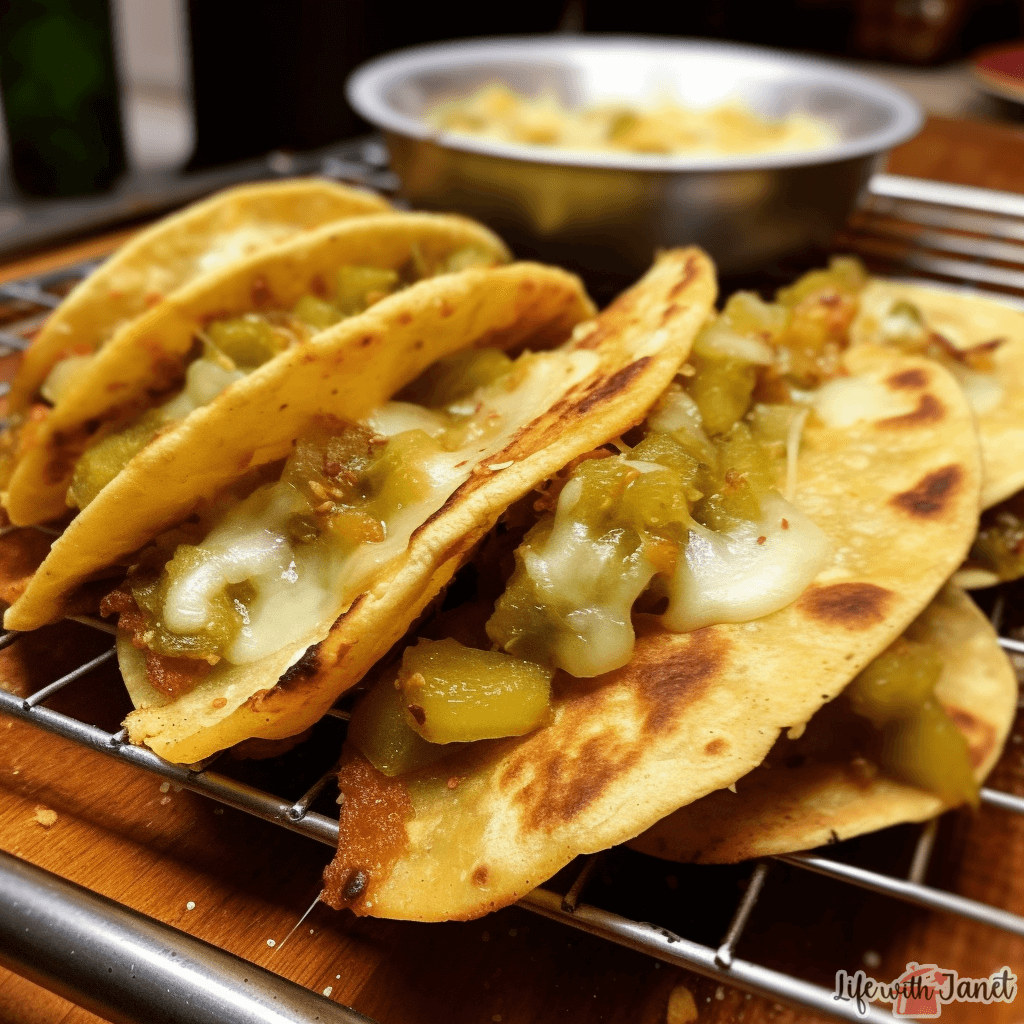 Can I use a different type of potato besides petite boiling potatoes in this recipe?
While petite boiling potatoes work well for this recipe since they hold their shape after boiling, you can likely substitute another waxy potato variety like red potatoes. Russet or baking potatoes may break down too much during boiling.
Can the poblano peppers be left out if I don't like spicy food?
You can certainly leave out the poblanos if you want a milder flavor. The dish would still be tasty sticking primarily to the potatoes, onion, cheese and seasonings. Some chopped roasted bell peppers could stand in for the poblanos for a similar texture.
How long will the leftover taco filling keep in the fridge?
The taco filling should safely keep in the refrigerator for 3-4 days. You may want to store it in an airtight container. The flavors will continue to blend during that time. Be sure to reheat it thoroughly before eating. Freezing portions is also a good option.
Any tips for crisping the tortillas successfully?
Heating a small amount of oil in a skillet over medium heat works best. Add the tortillas one at a time and fry for 30 seconds per side, flipping once, until pliable and lightly browned around the edges. Drain on a paper towel before filling to absorb any excess oil. Practicing on a test batch ensures perfect crispy tacos every time!
A Quick Ingredient Checklist
No complicated or hard-to-find items here. The simple but impactful list includes:
Potatoes – 1.5 lbs, cut in half for boiling
Olive Oil – 3 tablespoons, plus some extra for the tortillas
White Onion – 1 small, finely sliced
Poblano Peppers – 6, charred and skinned
Salt – Just a pinch
Cheese – 8 oz (queso fresco, feta, or goat cheese)
Epazote Leaves – 16, finely chopped (optional)
Corn Tortillas – 8-12, slightly crisped in olive oil
Cooking Steps Simplified
Start with the Potatoes
Boil the Spuds: Submerge your halved potatoes in salted water and boil until soft—about 15 minutes. Cool, peel, and dice them. Your base ingredient is now prepped!
Onions and Potatoes Unite
Sauté Galore: Use a medium-heated skillet for this. Add olive oil, followed by sliced onions and diced potatoes. Stir occasionally till they turn a lovely brown. This usually takes up to 15 minutes.
Flavor Boost with Poblanos
Spice It Up: While your potatoes are cooking, chop your charred and deseeded poblanos. Add them to your skillet. This is also when the optional epazote leaves can go in. Season the mixture with salt, then mix in your cheese.
Crunch Time with Tortillas
Taco Shell Crisp: In a separate pan, crisp your corn tortillas using a bit of olive oil. Once done, it's time to assemble your tacos. Fill your tortillas with the potato mix, fold them, and they're ready to be served!
Frequently Asked Questions
Can I Substitute the Cheese?
Yes, cheese alternatives like feta or goat cheese work well if queso fresco is unavailable. However, each cheese brings its own unique flavor profile.
Is Epazote Essential?
While epazote enhances the dish with its unique aroma, it's not a deal-breaker. Feel free to replace it with other herbs like cilantro or oregano.
Can I Prepare Poblanos in Advance?
Absolutely. Char them, store them in an airtight container, and refrigerate until you're ready to cook.
Wrapping Up
Transform your next taco night with this Potato Green Chile Taco recipe. Combining cozy potatoes and aromatic poblano peppers, it's a winning dish that promises not just to fill your stomach but also to satisfy your soul. Enjoy this wonderful blend of textures and flavors, perfect for any gathering or a quiet evening at home. Don't forget to try out the cheese and herb variations to make it your own!
So what are you waiting for? Get your ingredients ready, and let's taco 'bout making something delicious today!