Indulge in the rich and flavorful world of the Texas Turtle Sheet Cake. This iconic dessert combines the traditional charm of a Texas Chocolate Sheet Cake with the sweet allure of turtle candies. The result is an irresistibly moist and chocolaty treat that promises to be the star of any gathering. This guide will dive deep into its composition variations and answer some burning questions!
What's in Texas Turtle Sheet Cake?
The Texas Turtle Sheet Cake is a beautiful combination of familiar ingredients that create an extraordinary dessert. At its core, it includes:
Granulated sugar and self-rising flour as the foundation.
Unsalted butter and coffee (or hot water) for a rich flavor.
Unsweetened cocoa powder to give it that deep chocolate taste.
Buttermilk and eggs bind it all together and provide moisture.
For the final touch, a homemade chocolate frosting is applied, then topped with a turtle-inspired combination of chopped pecans, chocolate chips, and a drizzle of caramel sauce.
Variations on Texas Turtle Sheet Cake
While the traditional recipe is delectable on its own, there's always room for creativity:
Buttermilk vs. Sour Cream: Some recipes call for sour cream instead of buttermilk. Both provide the cake with moisture and a slight tang.
Coffee Addition: Coffee is an optional addition that intensifies the chocolate flavor. However, you can substitute it with hot water if you're not a fan.
Cake Base: While the provided recipe is from scratch, a boxed cake mix can be used conveniently.
FAQ:
Can I use a different type of chocolate for the cake? While unsweetened cocoa powder is recommended, you can experiment with dark or milk chocolate cocoa powder for varying flavors.
What if I don't have buttermilk on hand? You can easily make homemade buttermilk with a few simple recipes provided in the original guide.
Why is coffee used in the recipe? Coffee, when used in chocolate cakes, enhances the depth of the chocolate flavor. However, the cake won't taste like coffee.
Can I use a different type of nut instead of pecans? While pecans are traditional for the turtle topping, you can use walnuts or almonds based on your preference.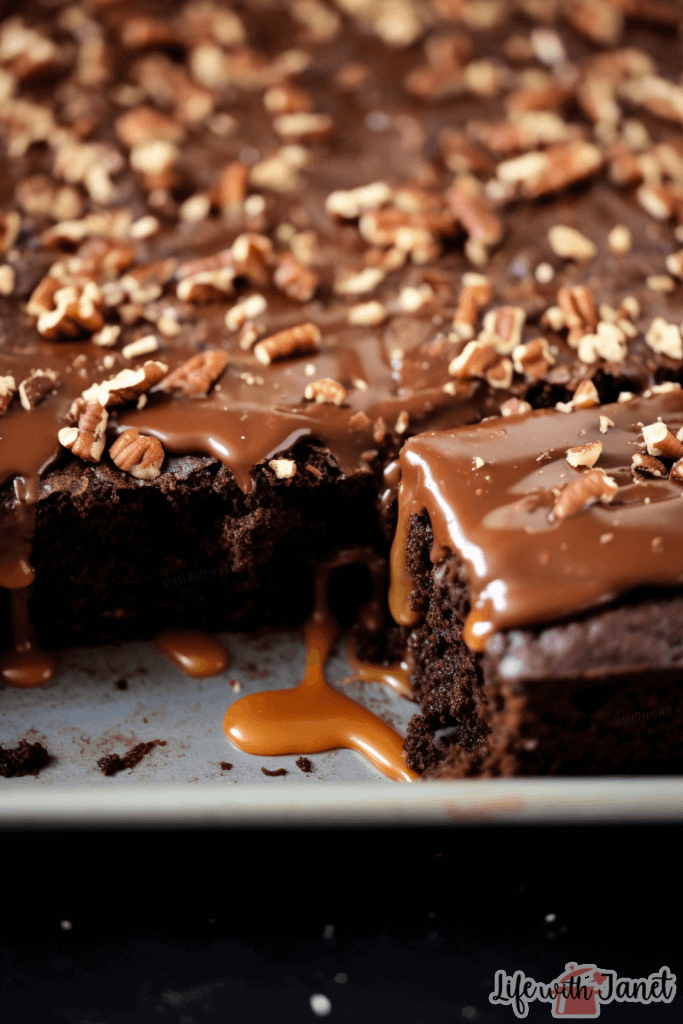 How to Store and Reheat
Place the Texas Turtle Sheet Cake in an airtight container and keep it at room temperature for up to 3 days. If you need to reheat a slice, microwave it for about 15-20 seconds, ensuring you don't overheat it to maintain its moist texture.
How to Freeze
For more extended storage, you can freeze the cake. Wrap individual slices or the cake in plastic wrap, followed by aluminum foil. Place inside a freezer bag or airtight container and store in the freezer for up to 3 months. Thaw in the refrigerator overnight before serving.
Serving Suggestions
For an extra treat, serve the Texas Turtle Sheet Cake with a scoop of vanilla ice cream. The ice cream's coolness will complement the cake's rich flavors. Additionally, if you have extra caramel sauce, you can drizzle it over the ice cream for an added touch of sweetness. Another idea is to serve it with a warm coffee or milk, enhancing the chocolatey experience.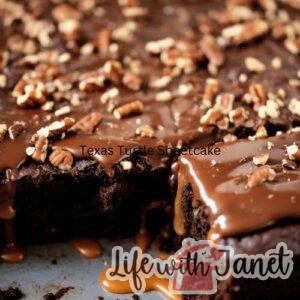 Texas Turtle Chocolate Sheetcake
Dive into a sumptuous chocolate cake adorned with creamy chocolate frosting, a hint of caramel, crunchy pecans, and delightful chocolate chips. An authentic American treat that will captivate every dessert lover!
Print
Pin
Rate
Ingredients
For the Chocolate Cake:
2

cups

granulated sugar

2

cups

self-rising flour

1

cup

unsalted butter

room temperature

1

cup

coffee

or hot water as an alternative

⅓

cup

unsweetened cocoa powder

½

cup

buttermilk

see alternatives below

2

room temperature eggs

For the Chocolate Frosting:

¼

cup

butter

¼

cup

buttermilk

3

tablespoons

unsweetened cocoa

2½

cups

powdered sugar
For the Turtle Topping:
½

cup

chopped pecans

½

cup

semi-sweet chocolate chips

½

cup

caramel sauce for a finishing touch
Instructions
For the Chocolate Cake: Set your oven to preheat at 350°F. Prepare a 10×15-inch baking pan with parchment paper (for a thicker result, use 9×13). Optionally, use non-stick spray on the sides.

In a sizable bowl, combine self-rising flour and sugar. Set aside for later.

Utilize a saucepan to mix butter, coffee (or hot water), and cocoa. Ensure it reaches a mild boil while stirring consistently.

Pour this warm butter concoction into the flour mixture, stirring for about 30 seconds until well combined.

Now, introduce the buttermilk and eggs, and keep stirring until you achieve a smooth mixture.

Empty the mixture into your baking pan and let it bake for 20-25 minutes. The perfect texture will spring back upon touch.

For the Chocolate Frosting: In another saucepan, mix butter, buttermilk, and cocoa. Stir it on medium heat until you achieve a soft boil.

Take it off the heat and introduce the powdered sugar, stirring gradually until smooth.

Assembly: Pour the frosting onto the baked cake. While it remains warm, shower it with pecans and chocolate chips, then gracefully drizzle the caramel sauce.