Ah, Spanakopita, that delectable Greek pastry, a tapestry of culinary history and cultural depth woven together in each flaky layer. This dish is not just about spinach and feta cheese tucked into a warm, crispy embrace. It's about heritage. It's about the love of rich, homey flavors. It's an invitation to explore Greek cuisine. Are you ready? Let's dive into the intricacies of crafting the perfect Spanakopita.
The Origin Story: A Dish Rooted in Time
A potpourri of tastes and influences, Spanakopita is a relic that has managed to evolve while preserving its fundamental essence. We find traces of this savory pie in the annals of ancient Greek gastronomy. Yet, despite its age-old origins, its charm is evergreen, a testament to its unassailable stature in the pantheon of comfort food.
Essential Ingredients: Beyond Spinach and Feta
You might think you only need spinach, feta, and phyllo dough, but there's more to it than meets the eye. Fresh dill, olive oil, and a dash of nutmeg can transform your dish from good to gastronomically transcendent. Do you want a good Spanakopita or an unforgettable one? Make the call.
Procuring Phyllo: The Art of the Layer
It's tempting to consider using puff pastry as a shortcut. Resist that urge. Phyllo dough's unique textural properties are what give Spanakopita its signature crispiness. While you can buy it, making it from scratch provides an incomparable authentic touch.
The Spinach: From Earth to Plate
Selecting the right spinach is paramount. Opt for fresh leaves, robust and deep green, signifying optimal nutrient content and flavor. Wilt the spinach lightly to remove excess water, a critical step many overlook, that if ignored, results in a soggy pie.
Feta Cheese: A Love Affair with Saltiness
The feta cheese in your Spanakopita acts as a saline counterpoint to the earthiness of the spinach. Choose a high-quality feta, ideally made from sheep's milk, to imbue your dish with rich, tangy undertones. The cheese can make or break your dish, and, in this particular culinary equation, mediocrity has no place.
The Assembly: An Exercise in Patience and Skill
Layer the phyllo sheets, each one lovingly brushed with olive oil, then deposit your spinach-feta mixture. Fold it up. Seal it. It's not just about assembling ingredients; it's a labor of love, a culinary ballet performed in slow motion.
Baking: The Final Frontier
The oven beckons, the stage upon which your culinary masterpiece will make its final transformation. A moderate 350°F (175°C) will ensure your layers crisp up without burning, the cheese melting into gooey perfection. Bake until golden brown, roughly 40-45 minutes.
A Meal, A Memory
Spanakopita isn't just a recipe; it's an experience, an expression of Greek culture folded into each layer, cradling a mix of flavors and textures that are at once humble and luxurious. So go ahead—take that first bite and let the journey begin.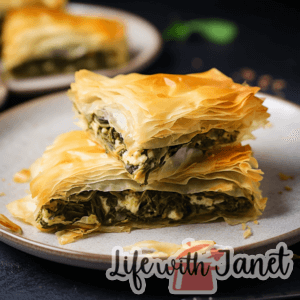 Amazing Spanakopita Recipe
Experience the richness of Greek cuisine with this ultimate Spanakopita recipe. A perfect blend of crispy phyllo dough, earthy spinach, and tangy feta cheese, this dish promises a burst of flavor in every bite.
Print
Pin
Rate
Equipment
Large sauté pan

Mixing bowls

Pastry brush

9×13-inch baking dish

Sharp knife

Measuring cups and spoons
Ingredients
1

lb

fresh spinach leaves

1

cup

crumbled feta cheese

1/2

cup

olive oil

1/4

cup

chopped fresh dill

1/4

teaspoon

nutmeg

Salt and pepper to taste

16

sheets phyllo dough

thawed

Additional olive oil for brushing
Instructions
Prepare the Spinach:
Preheat a large sauté pan over medium heat. Add spinach and cook until wilted. Drain excess water and set aside.
Make the Filling:
In a mixing bowl, combine wilted spinach, feta cheese, dill, nutmeg, salt, and pepper. Mix well.
Preheat the Oven:
Preheat your oven to 350°F (175°C).
Assemble:
Brush a 9×13-inch baking dish with olive oil.

Place a sheet of phyllo at the bottom of the dish, brush with olive oil. Repeat this step, layering and brushing each sheet, until you have 8 sheets layered.

Spread the spinach-feta mixture evenly over the phyllo.

Continue the layering process with the remaining 8 sheets of phyllo, brushing each with olive oil.
Bake:
Place the baking dish in the preheated oven and bake for 40-45 minutes, or until the phyllo is golden brown and crispy.
Notes
Serving Suggestions:
Cut into squares and serve hot.
A side of Greek salad or tzatziki sauce complements the dish wonderfully.