The fusion of flavors in a crock pot taco soup is truly a gastronomic marvel. Those comforting, warm taco flavors, effortlessly transmuted into a soup, provide an unparalleled dining experience. For anyone who's a staunch admirer of tacos and soups alike, this crockpot taco soup recipe is like striking gold.
The Allure of Crock Pot Taco Soup
Taco soup in a crockpot isn't just a dish; it's an experience, a memory, and most importantly, a journey of flavors. From the hearty embrace of ground beef to the splash of lively tomatoes and the earthy hum of pinto beans, every ingredient plays its part beautifully. This isn't merely a recipe; it's a testament to the genius of culinary amalgamations.
Why Taco Soup in a Crockpot Stands Out
The beauty of the taco soup crock pot recipe is its simplicity paired with immense flavor. It's not just about throwing ingredients in a pot; it's about the alchemy that happens when spices, meat, and veggies slowly meld together. The crockpot does the magic, and what you get is a delicious, hearty soup, reminiscent of your favorite taco, but with the comfort and warmth of a homely soup.
While the core ingredients remain consistent, there's always room for creativity. Whether you're a fan of black beans or have a penchant for spicy green chiles, the crock pot taco soup recipe is versatile. But remember, the magic lies in the blend of ranch and taco seasoning. It's this duo that sets the soup apart and gives it that unique flavor profile.
Serving Suggestions: Elevate Your Crockpot Taco Soup
A dish as dynamic as the taco soup crockpot deserves an array of toppings. Think crispy tortilla strips, a dollop of sour cream, freshly chopped green onions, and a generous sprinkle of cheese. When serving for guests, a plethora of toppings can turn your dinner into a fun taco soup bar. Add some cornbread on the side, and you've got a meal fit for a fiesta!
The Everlasting Love for Crock Pot Taco Soup
Whether it's a chilly winter evening or a breezy summer night, the crockpot taco soup is bound to be a hit. Its adaptability, rich flavors, and sheer comfort make it a beloved dish in many households. If you haven't tried this yet, now is the perfect time. Dive into this world of flavors, and let the taco soup crock pot recipe become your new favorite!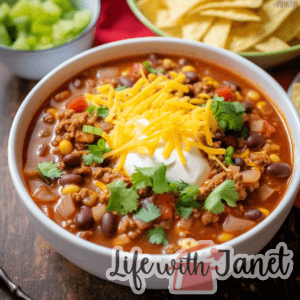 Crock Pot Taco Soup Recipe
Dive into the flavors of the Crock Pot Taco Soup – a harmonious blend of beef, distinct Rotel tomatoes, and classic seasonings, garnished with creamy sour cream and cheese. It's a dish that seamlessly merges convenience with taste, perfect for both cozy family dinners and grand gatherings.
Print
Pin
Rate
Ingredients
1

lb

Beef

ground

1

Onion

finely chopped

15

oz.

Beef Broth

canned

15

oz.

Corn Kernels

canned and undrained

15

oz.

Rotel Tomatoes and Green Chiles

canned and undrained

1

can Pinto Beans

with their liquid

1

envelope Ranch Dressing

dry mix

1

envelope Taco Seasoning Mix

1

cup

Fresh Water
For Garnishing:
Consider using crushed tortilla chips

dollops of sour cream, handfuls of shredded cheese, and dashes of sliced green onions.
Instructions
Begin with Beef: In a skillet, sauté the beef with chopped onions. Season with minimal salt and pepper. Once done, ensure to discard the surplus fat.

Transfer: Move the beef-onion mixture to your crock pot.

Add Ingredients: Introduce the Rotel tomatoes, corn, pinto beans, beef broth, and fresh water into the pot.

Season Well: Thoroughly blend in the taco and ranch seasonings.

Slow Cook: Seal your pot and let it simmer on a low setting for around 6 to 8 hours.

Serve with Flair: Once ready, ladle into bowls and sprinkle with your preferred toppings.
Nutrition