Today, we're going to journey through the rich, gooey world of Butter Pecan Praline Poke Cake, a dessert so divine that it transforms any occasion into a sublime celebration. The process is simple, yet the outcome? Mind-blowingly tasty. And guess what? You don't have to be a pro baker to nail this recipe; it's that easy! So, let's dive in.
Why Choose a Poke Cake?
You might be wondering, what's so special about a poke cake? Well, it's all about those holes you poke into the freshly baked cake, allowing the frosting or glaze to seep into the cake itself. Trust me, with this Butter Pecan Praline Poke Cake, you'll want every ounce of that buttery, pecan-laden glaze to permeate each bite.
The Boxed Cake Mix: An Unexpected Hero
While purists might hesitate to embrace the convenience of boxed cake mixes, let's break the stigma! Especially when you're working with a cake like this, a boxed mix can become your canvas. By adding coconut pecan frosting directly into the mix, we elevate its status from a simple convenience to culinary genius.
The Perfect Blend of Ingredients
What's in this magical concoction, you ask? A box of butter pecan cake mix joins forces with a can of coconut pecan frosting, four large eggs, vegetable oil, and milk. It's a parade of familiar pantry staples that come together to create something extraordinary.
The Art of Poking
Once your cake is baked to perfection in a 9×13 pan, it's poking time. The size of the holes matters as they serve as little tunnels for your glaze. You can use a wooden spoon or even a fork. The objective? To create pathways for the glaze to weave its gooey magic deep into the cake.
The Glaze: A Culinary Symphony
While your cake is cooling, the glaze takes the center stage. A simmering blend of butter and sweetened condensed milk forms the base, with chopped pecans making a crunchy cameo. This isn't just a mere topping; it's a full-bodied sauce that accentuates every inch of the cake.
Customizing Your Butter Pecan Praline Poke Cake
Feeling adventurous? You can always sprinkle some toasted coconut on top or maybe drizzle some caramel sauce for extra richness. This cake offers room for creativity without veering away from its signature flavor.
Can I Use a Different Type of Nut?
Absolutely! While pecans offer that authentic Southern touch, feel free to experiment with almonds or walnuts if you're in the mood for a different texture.
How Do I Store Leftovers?
You can certainly store any remaining cake in an airtight container in the fridge. If you're planning to devour it within a few days, that is. Otherwise, feel free to freeze individual slices for a prolonged pecan praline pleasure.
So there you have it! The Butter Pecan Praline Poke Cake is not just a dessert; it's an experience. From the moment you blend the ingredients to that first bite soaked in the heavenly glaze, this cake promises a sensory journey you won't soon forget. And the best part? It's easy enough for bakers of all levels to master. So go ahead, give it a try and let this cake bring a little extra sweetness to your life.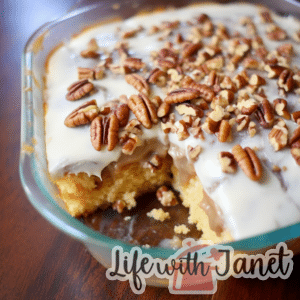 Ingredients
4

Large Eggs

1

Cup

Whole Milk

3/4

Cup

Canola or Vegetable Oil

1

Box

15 oz Butter Pecan Cake Mix

1

Can

16 oz Coconut Pecan Frosting

1/2

Cup

Pecans

Finely Chopped
For the Scrumptious Sauce:
1

Can

14 oz Sweetened Condensed Milk

1/4

Cup

Unsalted Butter

1/2

Cup

Pecans

Finely Chopped
Instructions
Initial Preparations:
Start by preheating your oven to a cozy 350°F (175°C). Meanwhile, liberally grease a 9×13-inch baking dish, setting the stage for your delectable masterpiece.
Batter Up:
In a voluminous mixing bowl, amalgamate the butter pecan cake mix, coconut pecan frosting, eggs, oil, and milk. Utilize an electric mixer to beat this motley collection into a uniform batter. This is where art meets science.
Pecan Inclusion:
Gently fold in the chopped pecans, ensuring they're evenly distributed throughout the batter. This adds a layer of crunch that contrasts beautifully with the cake's innate fluffiness.
Into the Oven:
Effortlessly pour your now-pecan-infused batter into your pre-prepared baking dish. Slide it into the oven and bake until a toothpick, when inserted into the cake's center, emerges free of wet batter—roughly between 30 and 40 minutes.
Poke Time:
Once baked, remove your culinary creation from the oven. Take the rounded end of a wooden spoon and pierce holes throughout the cake's surface. It may seem counterintuitive, but this will allow the sauce to permeate more effectively.
Sauce Crafting:
Now, turn your attention to the sauce. In a medium saucepan over medium heat, melt the butter like a culinary alchemist. Incorporate the sweetened condensed milk and stir. Achieve a gentle simmer and introduce the chopped pecans to the mix.
Finishing Touches:
With your sauce now teeming with flavor, remove it from the heat. Drizzle it delicately over your poked cake, ensuring it infiltrates the holes and drizzles down the sides. The synergy of flavors and textures at this stage is truly transformative.
Cool & Slice:
Exercise patience as the cake cools, allowing the sauce to settle in. Once cooled, slice it into generous portions and prepare for a gastronomic adventure.