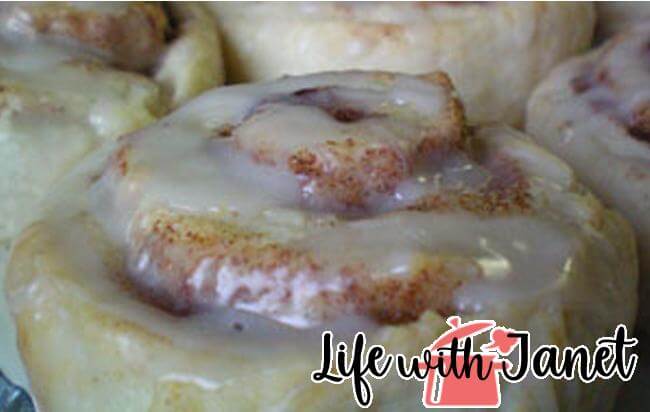 I was in the mood for cinnamon buns this morning for breakfast but was too impaitent to make the old fashioned kind with yeast. Luckily I found this recipe that looked great, was fast and easy, and had great reviews. Because of some of the reviews stating that it tasted too much like bisquick, I decided to make bisquick from scratch instead and found this recipe. Although the buns had more of a sweet biscuit texture rathar than a soft cinnamon bun texture, they still worked out well and it was hard not to eat just one.
I omitted the raisons but the buns still had great flavor and the icing on top makes them even better. I would definitely make these again if I needed a fast cinnamin bun and maybe next time use a cream cheese frosting! I've posted my combined version of the recipe below, feel free to use brown sugar instead of white sugar for the cinnamon/sugar filling for more flavor (I think that's what I might do next time too.)
Easy Cinnamon Buns
(For Bisquick mix):
3 Cups flour
1 1/2 Tbsp baking powder
1/2 Tbsp salt
1/2 Cup vegetable shortening
(For Buns):
2 Tbsp granulated sugar
1 tsp cinnamon
2 1/2 Cups homemade Bisquick mix
2/3 Cup milk
2 Tbsp granulated sugar (or brown)
2 Tbsp softened butter
1/2 Cup raisons (optional)
(For Icing):
2 Tbsp milk
1 1/3 Cup sifted powdered sugar
1/2 tsp vanilla extract
Instructions
1) For Bisquick Mix: In a large bowl combine flour, baking powder, and salt and mix until very well combined
2) Add shortening and blend into flour mixture with pastry blender or two knives until it forms finely coarse crumbs (mixture can be stored in the fridge in an air tight container up to 4 months and used in other recipes that call for bisquick mix)
3) For Buns: Preheat oven to 375F and line a 139in pan with tin foil and spray with pam 4) In a medium bowl combine homemade bisquick, milk, and 2 Tbsp sugar and mix until dough forms (if dough is too sticky to handle add up to 1/4 Cup of bisquick mix until manageable to handle) 5) Turn dough out onto bisquick covered surface and roll dough in ball covering gently with bisquick mix, then knead ball about 1o times 6) Roll ball into a 159in rectangle with bisquick covered rolling pin
7) Spread softened butter evenly over dough (sprinkle evenly with raisons if desired)
8) In seperate small bowl combine 2 Tbsp sugar and cinnamon, then sprinkle over butter evenly on top of doughEasy Cinnamon Buns
9) Tightly roll rectangle starting at the 15in side and seal edge by pinching dough together
10) Cut into 1 1/4in logs and place cut side up in greased pan then bake for 23-25min (mine took 25) or until lightly golden
11) Cool in pan for 5min then remove from pan and glaze with icing
12) For icing: combine milk, sifted powdered sugar, and vanilla and whisk until smooth then drizzle over buns and enjoy!