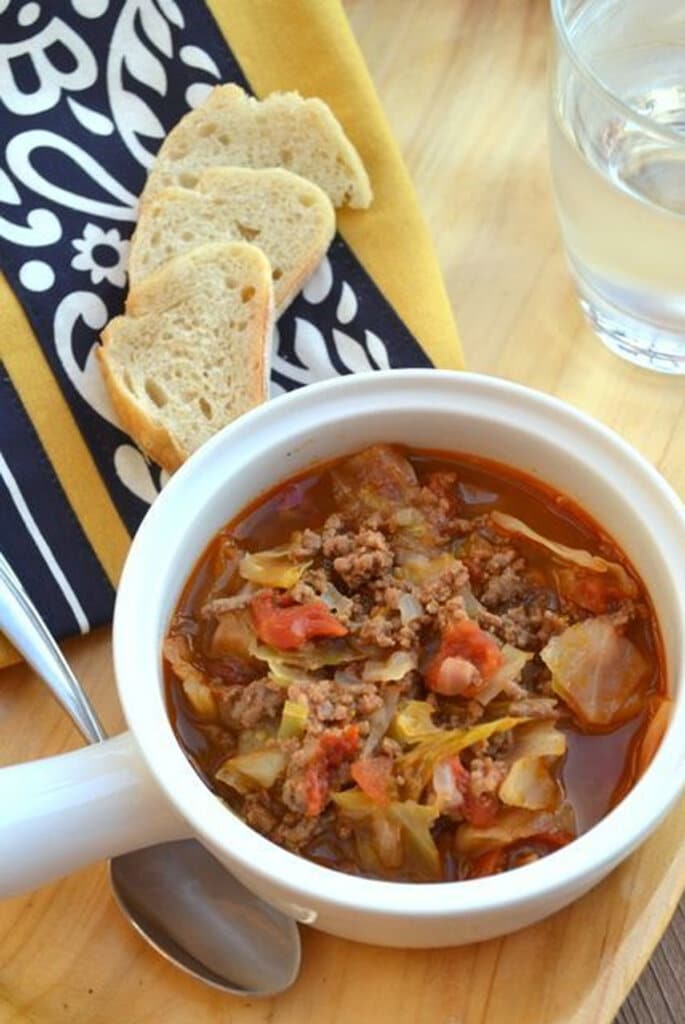 This soup is just the yummiest! I know it seems like a weird to time to posting a soup recipe. It's probably even a stranger time to be making soup. It's still hot out! I get it. Sometimes I feel like the lyrics to Train's "Meet Virgina" song were written about me.
"She only drinks coffee at midnight, when the moment is not right. Her timing is quite unusual."  Yeah, that's me.
I start my "pumpkin everything" craze about two months too early. I always crave figs in the winter when they are only available for like, a month in the SUMMER, (what's that about?!). And my husband's chili recipe, well I usually want that on just about the hottest day of the year.
By the way, if you've been following along on my Pregnancy Foodie Project, I've picked up where I left off last pregnancy at 30 weeks. And the size of your baby at 30 weeks is about the size and weight of a large cabbage, 3 pounds and 15 3/4 inches from head to heel. If you haven't seen how I track the size of growing babe by food, you should go take a look. It's pretty cool! 
This stuff is so dang good, and the list of ingredients so super short! Beef and cabbage are such a great combination, and even if you aren't a tomato person, I promise you, there aren't enough in here to freak out about. In fact, my mother-in-law is the one that gave me the original recipe for this soup and it simply called for diced tomatoes. She is the one that changed her recipe to the Rotel instead, because of the added chilies and all the great added flavor.
This hamburger cabbage soup kind of reminds me of bierocks a little, with the cabbage and ground beef combination. And if you haven't had those little meat pastries, forget this soup and go make yourself about a dozen of those and then come back and let's talk about how much better your life is now! Right?!
One thing to note before starting this soup is make sure to get lean ground beef because you won't be draining of the fat or water off before adding other ingredients. There is not a lot of liquid in this recipe, which I actually like, because it feels a bit more hearty and leaves you feeling satisfied. You could probably even call it a stew.
If you are watching your sodium intake, feel free to dial the salt down a little. I like to add some salt in with the meat while it's cooking so that it actually gets some of that seasoning also. Then I add in the remanding seasoning later if it needs it.
Ok, so grab yourself a hunk of crusty bread, pull up a spoon, and come sit by me! It's soup time.
Ingredients
2 lb lean ground hamburger

1 T oil

1 large onion, chopped

2 14.5 oz cans original Rotel (do not drain)

1 large head of cabbage, chopped

3 cloves garlic, chopped

1 8 oz can tomato sauce

1 C water

2 tsp salt, divided

1 tsp black pepper
Instructions
In a large pot or French oven, heat oil over medium heat. Add ground beef, onion and 1 tsp salt and cook together until beef is cooked through and no longer pink, and until onions are tender. Stir in garlic and cook for another minute.

Add in cabbage, Rotel, tomato sauce and water stir to combine. Stir in remanding salt and pepper. Bring everything to a boil. Turn heat down to low, cover and let simmer for 30 minutes. Cabbage should be tender at this point. Season more if needed.