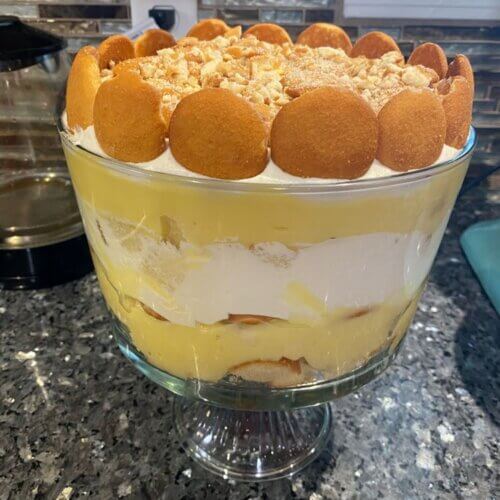 Ingredients
1 14-oz can sweetened condensed milk

1 1/2 cups ice cold water

1 3.4 oz package instant vanilla pudding mix

3 cups heavy cream

1 12-oz box Nabisco Nilla Wafers

4 cups sliced ripe bananas (about 3 medium bananas)
Instructions
In a stand mixer or with a whisk and bowl beat together the condensed milk and cold water until well combined. Add Jello and keep mixing until the Jello has dissolved, about 2 minutes.

Cover Jello mixture and allow to set completely in fridge- about 3 hours or you can leave it overnight.

In a stand mixer or with an electric hand mixer whip the heavy cream until still peaks form.

Gently fold pudding mixture and whipped cream together until uniformly pale yellow- no streaks.

In a large glass bowl or some other pretty glass serving dish, layer 1/3 Nilla wafers, 1/3 banana, and 1/3 cream & repeat twice.

Cover and allow to sit in the fridge for a few hours or overnight so that the wafers can soften slightly.
Notes
if this sits for longer than overnight the bananas will discolor- I recommend leaving them out and cutting up bananas to put on top of each serving