We had extra bananas on hand, so I thought why not bake with them! My typical go-to baked good with bananas is Banana bread. But I wanted to make something more sweeter and more special 🙂 – I thought Banana Cake. Although they seem similar, the cake has a much more moist and lighter texture than it's bread counterpart.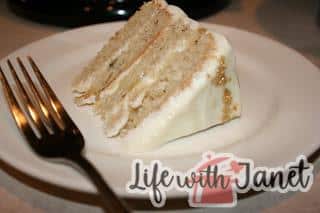 This cake was very tasty! It was incredibly moist. The soft sweetness of the Banana Cake went perfect with the tartness of the Cream Cheese frosting.
I halved the original recipe, and it still filled up 2-6" cake pans. I cut both cakes in half and made a 4-layer cake. The end product was beautiful and delicious!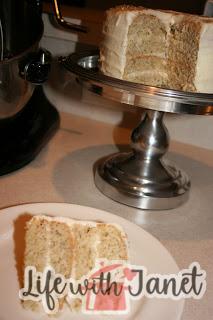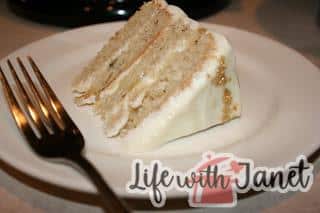 Ingredients
Banana Cake
2 ½ c. All Purpose Flour

1 tbsp. Baking powder

2/3 c. Milk

4 ripe Bananas (Mashed)

2 eggs

1 ½ c. Sugar

¼ c. Apple Sauce

¼ c. Unsalted Butter

1 pinch salt
Cream Cheese Frosting
16 oz. Cream Cheese

½ c. Butter (1 stick)

1 tsp. Vanilla

2 c. Confectioners Sugar
Instructions
Preheat oven to 350 degrees F. Grease and flour 2-8" round pans (I cut the recipe in half and used 2-6" pans instead).

To make the cake, whisk together flour, baking powder and salt – Set aside.

In the bowl of stand mixer, beat the butter and sugar until light and fluffy. Beat in eggs, one at a time. Mix in the mashed bananas. Add flour mixture alternately with the milk to the creamed mixture. Pour batter into the prepared pans.

Bake for 30 minutes until the tops are golden and a toothpick comes out clean. Remove from oven, and let cool for 5 minutes. Put pans in the freezer for 15 minutes to cool completely.

While the cakes are cooling, make the frosting. In the bowl of a stand mixer, cream together the cream cheese and butter – I get the best, fluffiest results when I use the whisk attachment. Add the confectioners sugar a little at a time. Mix until all the sugar is incorporated. Mix in the vanilla.

To assemble the cake, cut both cakes in half. Put the bottom of 1 cake on a cake stand. Layer with frosting. Put the top half of the same cake on top and layer with frosting. Do the same with the other cake. Frost a thin layer on the sides and top of the cake. Put the cake in the freezer for 15 minutes for the frosting to set. Take out and finish frosting. I also sprinkled the top of the cake with gold sprinkles to make it extra pretty :).