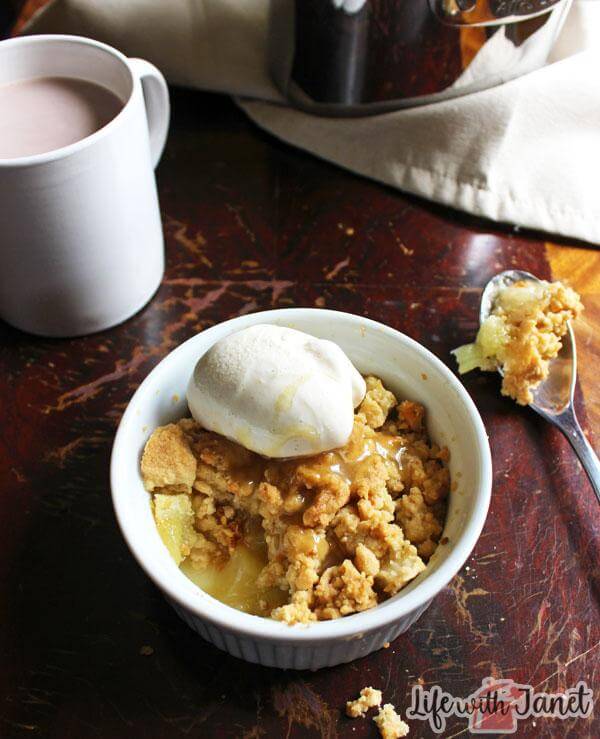 Skinny jeans. Smart phone over blackberry. The ice bucket challenge. Kale in everything.
When it comes to trends and bandwagons, I'm usually one of the last people to hop on. I like to spend as much time as I can objecting before ultimately caving in.  
Well, when it comes the salted caramel craze, I'm doing it differently. Still late, but not quite hoping on.
By the way, I googled it and salted caramel became popular in 2008. Two thousand eight???? Jeeze!! Maybe my trend tardiness is due to not having cable. Then again, adding salt to caramel probably didn't make the news in 08.
Anyway, for this week's post, I took a classic apple crisp and added some flare. Specifically cashews, ginger, lemongrass, and MISO caramel. I was quite pleased with the results. Not to mention, these four individual portions can be made ahead of time and then reheated and topped with ice cream. You know….for one of those nights that sugar is just plain necessary but the time to put something together is non-existent.
Ingredients
For the apple filling:
2 apples, peeled and diced

1 tsp lemongrass

¼ C sugar

1 tsp ginger root, minced
For the topping:
¾ C flour

¼ C oats

¼ C cashews, chopped

¼ C brown sugar

6 TBS butter, room temperature cubed
For the miso caramel:
½ C sugar

2 TBS + 1 tsp water

4 tsp miso

¼ C heavy cream
Other:
Vanilla ice cream or gelato (if desired)
Instructions
For the apple filling:
Combine all ingredients in a small bowl and divide across 4 individual ramekins.
For the topping:
Combine the first four ingredients in a small bowl. Cut in the butter and sprinkle over each of the ramekins.

Place in a 375 degree oven for 30 minutes on the middle rack.
For the caramel:
Whisk together the water and miso in a small bowl.

Combine with sugar and put in a small sauce pan on medium high heat.

Stir with a rubber spatula to incorporate the sugar and cook to a deep golden color.

Slowly pour in the heavy cream (room temperature) and be careful as it may bubble up.

Pour a tablespoon or two over each crisp when it comes out of the oven.