This is by far becoming my favorite time of month
It's Mystery Dish Day!!
This month was particularly fun because I got to make one of my most favorite summer dishes EVER because it is by far the best pasta salad that I've ever had
Our wonderful host this month was Sarah from the super yummy blog: The Pajama Chef 
She has great, super unique and delicious recipes that are always crazy flavorful! Go visit her and check out the full list of secret ingredients she challenged us with this month. It was super easy to decide what I wanted to make because three ingredients fit right into my already awesome pasta salad; tomatoes, cucumber, and fresh herbs (basil)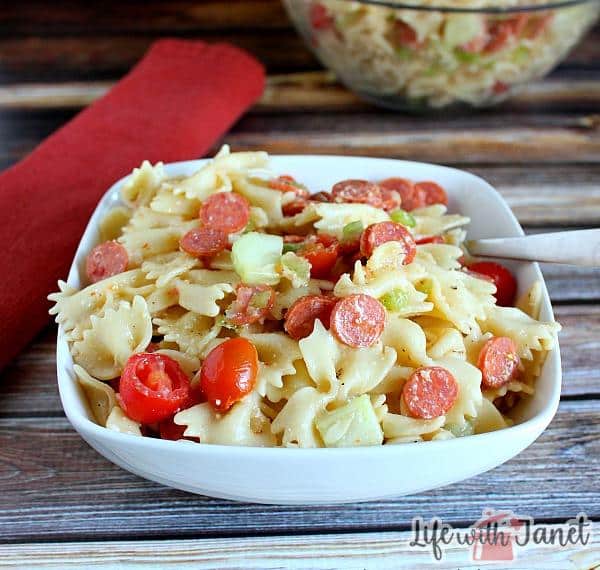 So I'm so STINKIN excited because our county fair has started!! 
I have grown to LOVE the fair, all the animals and tractors and food 
 mmmmmmmm
We got to go last night and my little guy rode rides all by himself for the first time, it was sad but also so much fun seeing him so proud of himself for "flying" his own helicopter or "driving" his own car around each ride. I've never seen him smile SO BIG!  
This coming week is the baking competition and I am working on something that is hopefully delicious. I entered for the first time last year and ended up winning my category with my Cherry Apple Crisp. This year the main ingredient is orange and it should be interesting…wish me luck!
Ingredients
1 box of bow tie pasta, cooked and cooled

1/2 quart of cherry tomatoes

2 cucumbers, peeled and chopped

1 green pepper, finely chopped

1 bag of pepperoni minis or package of pepperoni, cut into quarters

1/2 bottle of zesty Italian dressing

3 tablespoons grated parmesan cheese

fresh basil, optional

salt and pepper
Instructions
Once pasta is cooled, toss with vegetables and pepperoni

Add Italian dressing to coat all pasta and mix-ins

Toss cheese, basil, salt and pepper to finish

Serve or keep chilled in the refrigerator

It just keeps getting better the longer the flavors marinate 🙂