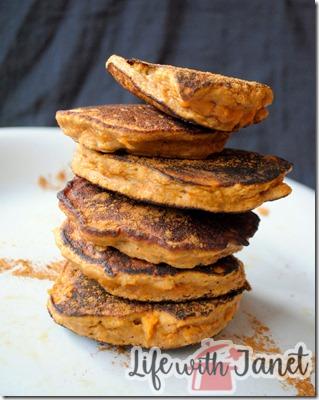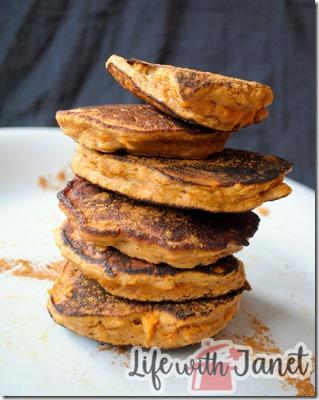 Man, I just love pancakes. I really do. There's just something about them…
As a kid, french toast was always my favorite, then pancakes, and then waffles were dead last. I've never made paleo bread so I bet you can guess that french toast hasn't been happening around here! Waffles either…but pancakes?
Now, my life is pretty much all pancakes, all the time. When I'm not eating eggs and meat and veggies for breakfast that is.
I really like that the basis of my paleo pancakes are eggs, with fruit or root veggies. This way, I can eat them as often as I want and still be healthy! hurrah! Sometimes I get in this pancake mood, and I just can't get enough, and I eat them for days in a row. Which is fine, since it's eggs and fruit. YES! love it. paleo totally lets me be indulgent and still feel awesome. Let me tell you, I would not be eating SAD pancakes for days, definitely not! I would be walking around with a brick in my stomach for days, and that's no bueno.
These pancakes are a wonderful pancake specimen. The sweet potato gives them a good fluffy texture which I am very much a fan of! And sweet potatoes are pretty versatile…so I have a lot of modifications in mind for these puppies.
I honestly think they beat out the banana pancakes. Especially when you burn the banana pancakes. The only thing is you need to have a bit of foresight, to have a pre cooked sweet potato. There is definitely a time and place for all types of pancakes in my life!
I suggest that if you are a busy person, at the beginning of the week, bake up some sweet potatoes in the oven to have on hand all week. You can use them as sides, or to make these pancakes! Also, if you are REALLY unprepared, you can microwave your sweet potato for 6 minutes, peel, mash, and freeze for ~15 minutes until cold. Don't ask me how I know this.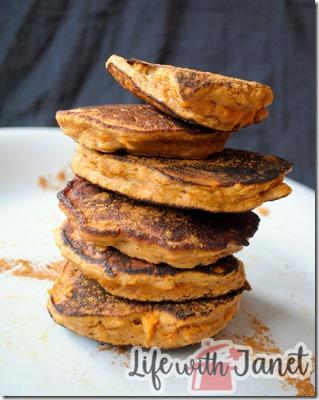 Ingredients
1,5

dl

=0,6 cups mashed sweet potato

3

eggs

0,6

dl

=0,3 cups oat flour

pinch

of cinnamon

oil

butter or coconut butter for frying
Instructions
Mix all ingredients in a bowl.

Heat a small pan and add preferred oil or butter.

Add some of the mixture and fry until golden brown.

This amount of mixture will make about six pancakes.

To make the mashed sweet potato, preheat oven to 180 Celsius / 360 Fahrenheit degrees. Prick the sweet potato a few times with a fork. Bake for about 45 minutes until the sweer potato is soft. Mash with a fork or use a mixer and add some water.