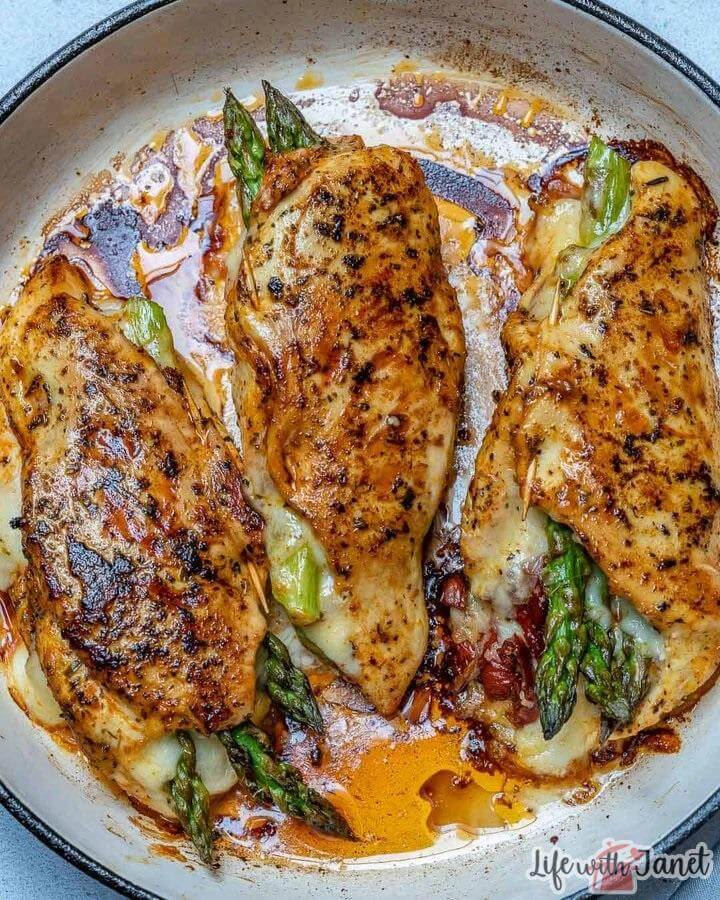 Today, I am going to share one of my favourite low-carb recipes. It is a recipe for stuffed chicken breast with asparagus, spinach and cheese. This chicken breast is not just any chicken breast. This is a stuffed chicken breast that is so full of flavour with some healthy asparagus. Scroll down to check the recipe.
Ingredients
Skinless boneless chicken breasts – 1 1/2 lb

4

Italian seasoning mix – 1 Tsp

Garlic Powder – 1 Tsp

Smoked Paprika – 1 Tsp

Sea salt

Asparagus stalks end trimmed – 12

Sun-dried Tomatoes – 1 oz

chopped

Mozzarella Cheese – 4 slices

Olive Oil – 1 Tbsp
Instructions
Up to 400 degrees Fahrenheit, preheat the oven.

Take out a clean chopping board and put the chicken on it. Sprinkle it with Italian seasoning, salt, pepper, garlic powder and paprika.

Now, cut the chicken in a lengthwise direction so pockets can be made. You should not cut it completely to the other end.

Now take three springs of asparagus and some fried tomatoes to a mozzarella slice. Roll them along with each other and add them to the pockets. Now stuff chicken breasts in the pockets.

Close each pocket using toothpicks. In the separate pan, heat some oil on medium flame.

Put chicken and cook from both sides until it turns brown. It will take three to five minutes per side.

The baking chicken will take fifteen to twenty minutes or until they are properly cooked and there remains no pink inside.
FAQs
Cooking the chicken will take how much time?
If you are using a microwave oven for cooking, then it will take nearly twenty to thirty minutes. do you like to bake or roast, then preheat the oven at 375 degrees Fahrenheit. If you are cooking chicken on the grill then it will take six to eight minutes per side if you use direct heat. 
Can these cooked stuffed chicken breasts be frozen?
Leftovers can be frozen for a longer time, about 3 months. You should be careful. Check if the container is airtight. If you are freezing only stuffed chicken breasts, then you can do this for four to five days. 
What is the proper way of cutting breasts for stuffing? 
Take your chicken breasts out on the cutting board. Flatly place your hands on the chicken and by using a knife, cut them carefully. Make sliced lengthwise to create pockets. 
How to avoid making chicken so chewy?
If you overcook chicken, it becomes chewy. So, avoid overcooking the chicken to prevent them from being chewed. If you are not clear about the required temperature, you may set it at 325 degrees Fahrenheit. In this way, it will be cooked slowly and retain moisture. 
It is a perfect recipe to start your week and also to get your family to eat veggies. What I like about this particular recipe is that if you are on diet, you can easily do it on the grill. The only downside to these low-carb diet recipes is that you cannot eat them in restaurants or when you are a guest at someone else's home.