Looking for a new recipe to make a special dinner? Well, you are going to love this easy recipe of cubed steak with onion gravy. I will be honest that I love the white onion grilled with steak or caramelized on my food. Like, I cannot get enough of it and the taste with the steak and a good sauce can be right on. The steaks can be coated like I will be using flour but you can add extra spices in the flour too. The onion gravy will make your family fall in love with this recipe in just one bite.
You just need 20-30 minutes only to prep and make this meal. I like to serve it with baked potatoes or mashed or maybe fried potatoes with chicken shreds. There can be so many ways to present this dish and you are going to love all of them. Add some peas and carrots too in your mashed potatoes for a different flavor. Moreover, adding butter will provide a smooth texture and aroma that you will love.
Is cube steaks expensive?
Well, not at all. The one thing that you will love about this dish is that the cubed steak is cheap. So, if you want to make a budget-friendly meal, there is nothing better than it.
What is the main difference between the cube and minute steak?
The main difference between them is that the minute steak has a toughness in it even if you cook it. The cube steak on the other hand is very tender. So, cooking it will make it soft and quite an unusual meal for those who like juicy and tender steaks in their food.
What if I soak the cube steak in milk?
You can soak it as it is quite a great technique used by chefs in restaurants. This way the milk penetrates inside the cube steaks and makes it tender more than the actual way. You are going to love the juicy taste and the aroma it will have.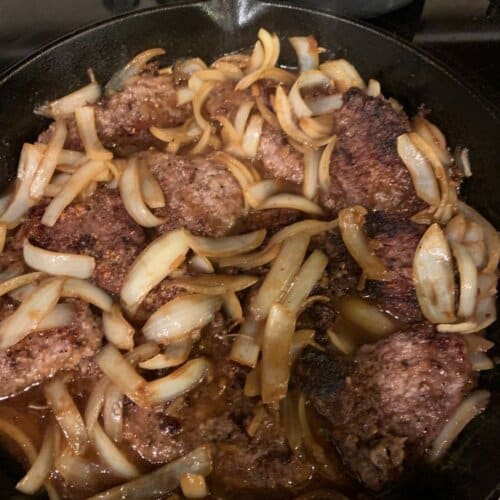 Ingredients
Half kg cubed steak

5

tbsp

of flour

Garlic salt half tsp

Pepper to taste

5

tbsp

of oil

I am using here vegetable oil but you can use canola, sunflower, and olive too

1

onion chopped

1

can of beef broth

Onion soup mix 1 packet from the store
Instructions
In a bowl add the flour, salt, and pepper. Mix it and coat the steaks in this mixture.

Now take a skillet and put it on medium flame. Cook the coated steaks for 5 minutes on both sides.

After the steaks are ready add the chopped onion, both the soup mix. Cook it and make sure there are no bits in the soup. Mixing it while it cooks will help to make a smooth texture.

Cook until the onion is soft and brown. Add the steaks and cook again for 5 minutes.

Your dish is ready and you can serve it now with your favorite. I will be serving with mashed potatoes including butter, pepper, parsley, green onions, and carrots.