I've said it before, and I'll say it again–I am NOT a morning person.  I am that person who has to set five different alarms every morning to make sure I get up (5:00am… 5:30am.. 6:00am… you get the picture!). This is kind of a problem when you have to be at work at the crack of dawn (if only teachers could start work at noon…).  Being a teacher means that not only do I have to be AT work on time, I have to be awake and on my A game by the time that first bell rings.  That's why I'm so thankful that Nestle helps me start my morning right. With Taster's Choice coffee and Coffee-mate creamer (my daily MUST have), plus a good, protein-filled Stouffer's Morning Classics sausage and egg breakfast, I can start my day right–and face the day with energy and a smile.  
I really can't start my day without a hot cup of coffee.  I usually stumble completely bleary-eyed into the kitchen, and fumble through the process of coffee-making.  Nescafe Taster's Choice makes that so much easier on a morning zombie like me. Just a teaspoon or two of coffee and some hot water, and ahhhh–my brain can finally function.
My favorite part of my morning coffee isn't just the coffee, though.  I am a huge creamer fan, through and through.  I get teased by The Husband all the time.  He likes to ask me, "Do you want some coffee with that cream?" and I quite often get in trouble for drinking up all the cream each week (we've even been known to buy two bottles of creamer at a time to feed my habit!). I can't help it.  It's just too delicious.  I know I've added the perfect amount of cream when my coffee reaches that beautiful light mocha color.
I especially love a good classic vanilla creamer.  It's the perfect match for a super strong cup of coffee. The Husband, on the other hand, is a fan of all things caramel–especially the Coffee-mate Caramel Macchiato Creamer (this is yet another reason that we end up buying multiple bottles of creamer at a time!). It brings that coffeehouse flavor right into our home, for a way better price.
To make both of us happy, I created the perfect breakfast treat: Do Nothing Cake! It definitely helps me start the day the right way.  With Taster's Choice coffee and Coffee-mate Caramel Macchiato creamer IN the batter, plus a Classic Vanilla creamer glaze, this cake is the ultimate coffee-lover's breakfast treat.
To make your own Do Nothing Cake, you'll need Coffee-mate creamers in Classic Vanilla and Caramel Macchiato, along with Nescafe Taster's Choice Instant Coffee.  
You can get everything you need right at your local Walmart store!
At my recent trip to Walmart, I also picked up a new breakfast treat to try: Stouffer's Morning Classics Sausage & Egg Scramble.  It's a delicious mix of sausage, breakfast potatoes, eggs, and cheese, packed with 25 grams of protein! 
I love the Morning Classics scramble for so many reasons.  It takes less than 5 minutes to heat in the microwave, and all that protein fuels me for my action-packed mornings (teaching 7th grade can really be strenuous!). You can put your scramble in a bowl to take with you, or wrap it in a tortilla for a quick and delicious breakfast burrito. It really is an easy way to start your day out right.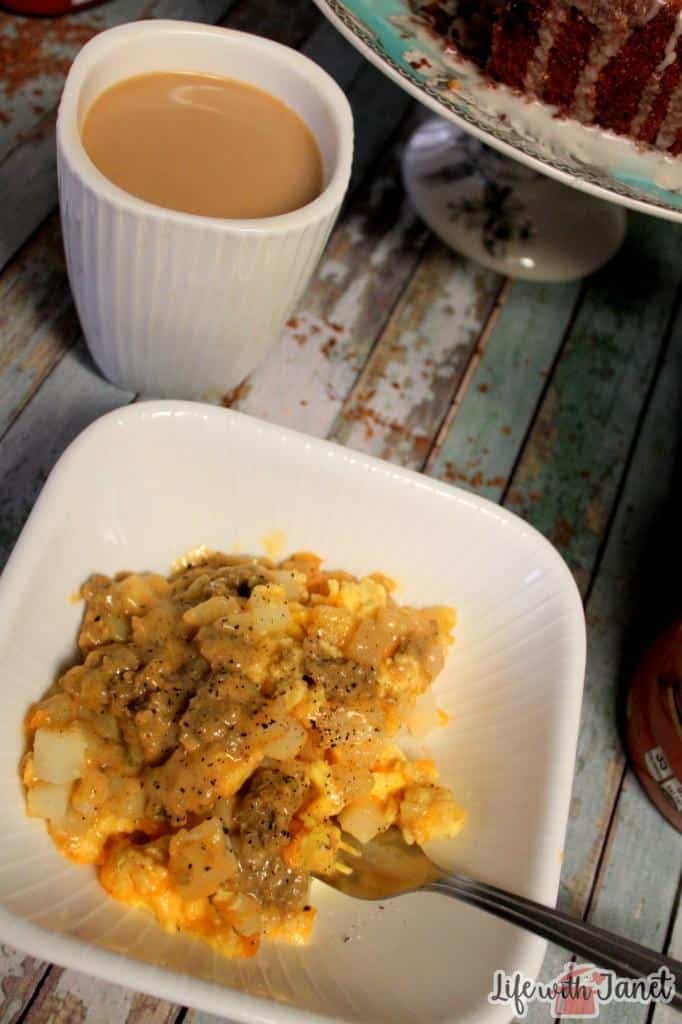 With a good cup of coffee, a sausage and egg scramble, and my Do Nothing Cake, you'll definitely start your morning on the right foot!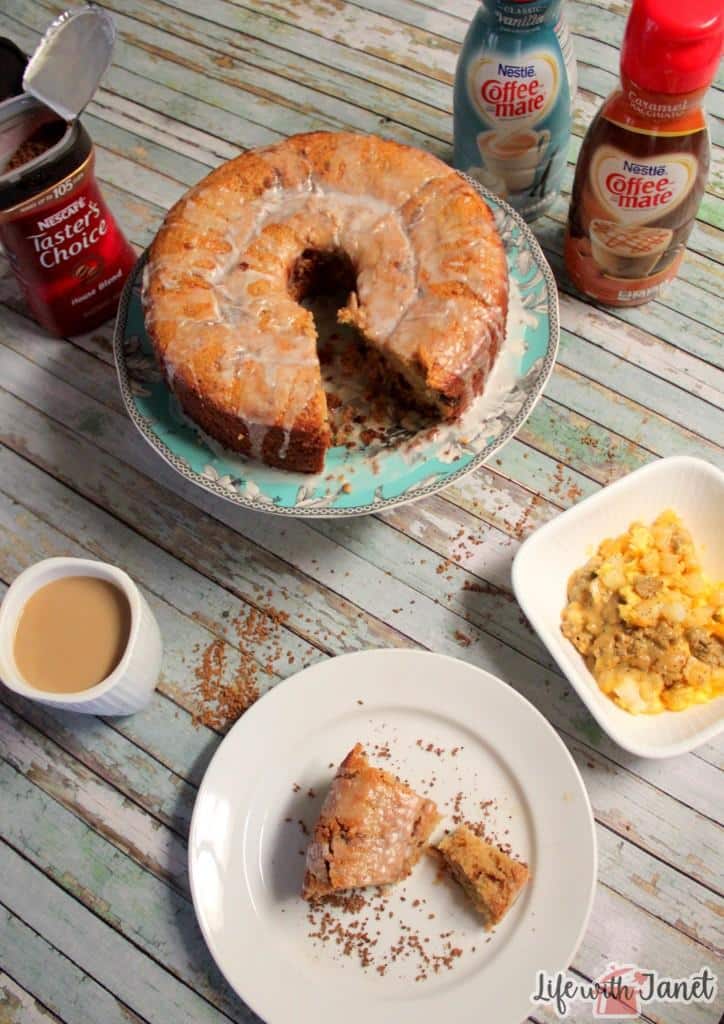 With a good cup of coffee, a sausage and egg scramble, and my Do Nothing Cake, you'll definitely start your morning on the right foot!
DO NOTHING CAKE
Ingredients:
For the cake:
2 cups all-purpose flour
1-1/2 cups granulated sugar
1 tablespoon + 1 teaspoon baking powder
pinch salt
2 tablespoons vanilla extract
2 teaspoons Nescafe Taster's Choice Instant Coffee
2 large eggs
1 cup Nestle Coffeemate Liquid Coffee Creamer–Caramel Macchiato
2/3 cup Greek yogurt 
1/3 cup + 1 tablespoon vegetable oil
For the crumb filling:
½ cup brown sugar
2 teaspoons cinnamon
2 tablespoons flour
2 tablespoons butter
For the glaze:
 3 tablespoons Nestle Coffeemate Liquid Coffee Creamer—Classic Vanilla
¾ cup confectioner's sugar
1.  Preheat oven to 350 degrees.  Spray a tube pan or bundt cake pan with nonstick cooking spray.
2.  In a large bowl, whisk together flour, granulated sugar, baking powder, and salt; set aside.
3.  In a small bowl, dissolve the instant coffee in the vanilla extract.
4.  In the same bowl, whisk together the egg, creamer, yogurt, oil, and coffee-flavored vanilla.
5.  Add the wet mixture to the dry, mixing lightly with a rubber spatula until just combined; don't overmix.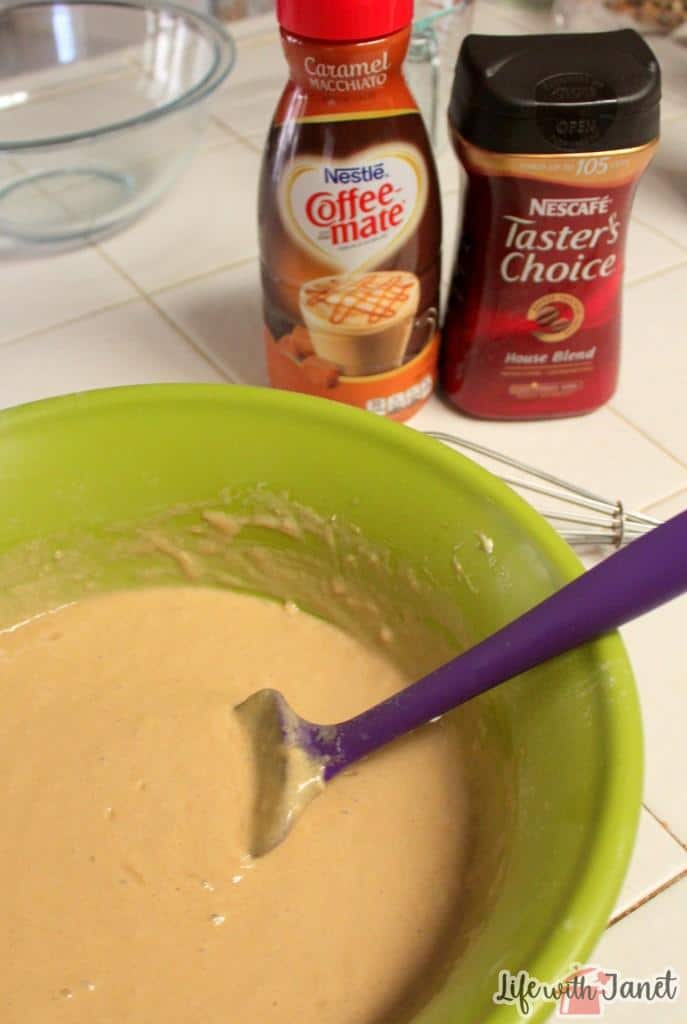 6.  In another separate bowl, mix together the brown sugar, cinnamon, and flour.  With a pastry cutter or two knives, cut the butter into the mixture until it resembles coarse crumbs.
6.  Pour half the cake batter into the tube pan.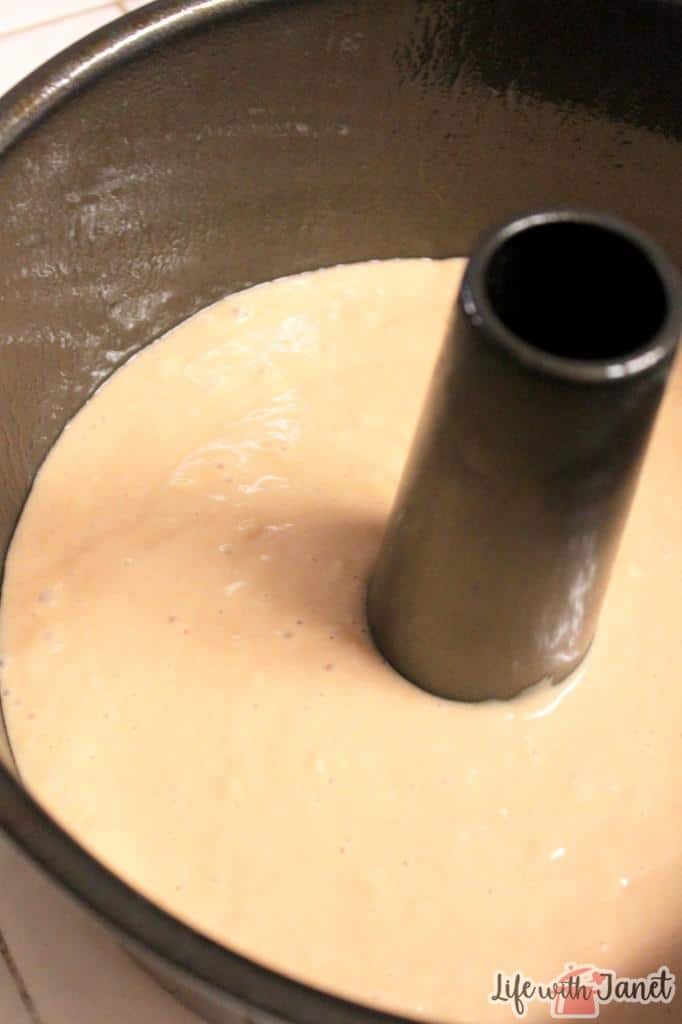 Sprinkle with half the cinnamon crumb mixture. 
Pour the rest of the cake batter on top, smoothing with a spatula.  Finish by topping with the rest of the cinnamon crumbs.
8.  Bake in the oven for 35-40 minutes, until a toothpick inserted into the cake comes out clean.
9.  While the cake is baking, mix together the vanilla creamer and confectioner's sugar until smooth.
10.  Remove the cake from the oven and let cool on a rack.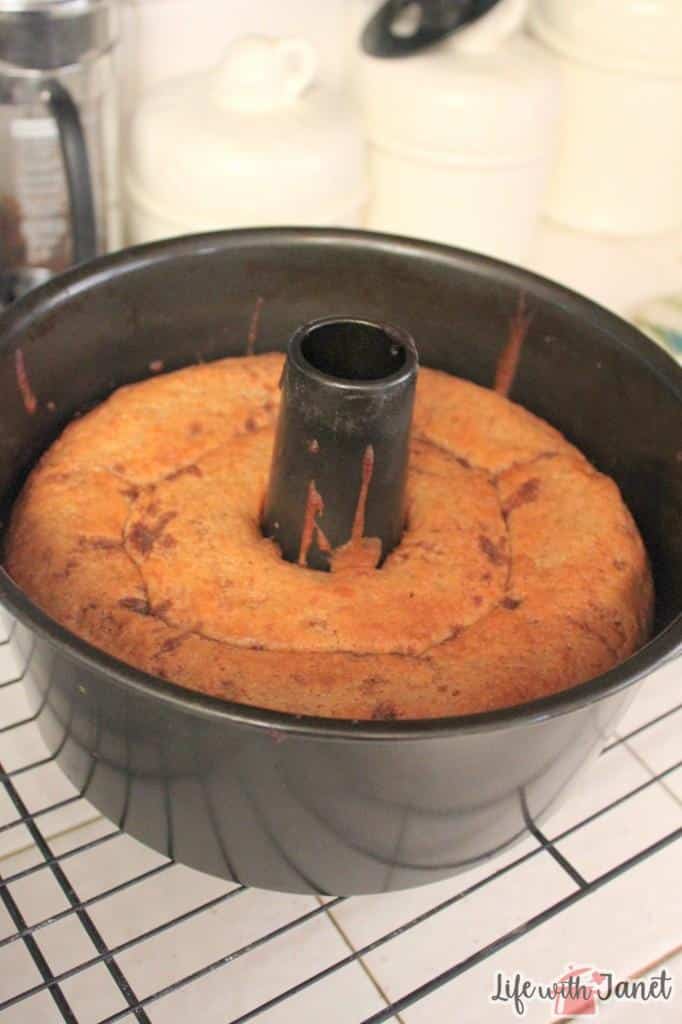 When almost room temperature, gently remove the cake from the pan and place on a serving plate.  Drizzle the glaze over the cake and allow it to harden.