A quick and easy dessert recipe is like a blessing especially when you have kids at home. I am always in this kind of situation and if I have to be honest, I crave something sweet all the time. So, I always stick to this wonderful saltine toffee recipe that is the true definition of deliciousness. I have been using this recipe for a very long time and especially on holidays. All of these homemade toffees are packed and sent to my friends, family, and neighbors. If you have kids at home, they will love making this recipe with you on holidays.
You can customize it in so many ways. Add the toppings like you prefer or your family. I make it by adding my favorite nuts on top, chocolate and vanilla syrups, chocolate chips, and anything that can make them taste amazing.
Why you should try the saltine toffee recipe?
It has cracker toffee in it which is the perfect combination when it comes to the sweet and salty taste. Moreover, the rich and creamy flavors that will burst into your mouth are just perfect. You also get to enjoy the chewy taste because of the crackers which are of course how toffee should be. In some places, it is also called soda cracker coffee or the Christmas crack. After all, it is the perfect gift and treats that make the holiday even more special. You will get addicted to this recipe with just one bite so do try it, especially during the holiday season.
Expert tips for saltine toffee recipe:
The caramel is the most important part of this recipe so you need to make sure that the temperature is the same as guided in the recipe. Otherwise, your caramel will not have the right consistency.
It is recommended to use butter and avoid margarine. But in the case when you do not have any butter at home and you need to make it urgently use it with some cream.
You can use saltine crackers, Ritz, soda, and club according to the taste you like.
The best thing is that you can even make this recipe with the help of white chocolate with a candy cane as the topping or some sprinkles.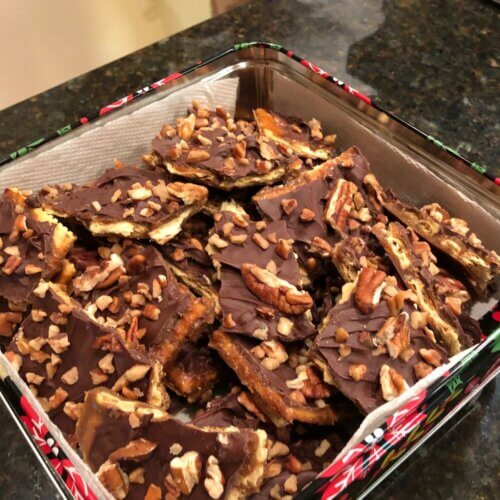 Ingredients
Saltine crackers 4 ounces

Pecans that should be chopped into a half cup

Butter 1 cup

You can use either salted or unsalted

Brown sugar 1 cup

Chocolate chips 2 cups
Instructions
Preheat the oven to 400 degrees F while you are preparing your other ingredients.

In a baking pan, line the sheet and add saltine crackers. It should be just one layer.

While you are doing that, you can add butter and sugar to a saucepan and heat it for 3 minutes. Now pour this amazing caramel on the top of the crackers.

Make sure that it is covered completely. Bake it for 5-7 minutes and then add a layer of chocolate chips on the top. Let it be at room temperature and soon the chocolate will melt. Spread the chocolate with the help of a spatula and then add the pecans to the top as this recipe topping. Put it in the fridge for 30-40 minutes and then you can cut it into your required size of toffee.