Today I am going to be talking about a delicious dish that I recently made for my family. It's a Brown Sugar and Butter Pork Chops recipe. This is a simple, yet delicious dish that is sure to make everyone happy.
I started out by preheating my oven to 375°F and then I seasoned the pork chops with some salt and pepper. I then put some butter in a pan and heated it over medium-high heat. Once the butter was melted, I added the pork chops and seared them on both sides until they were nice and golden brown.
Next, I added some brown sugar and butter to the pan and let them cook until the sugar had dissolved. I then added some apple cider vinegar to the pan and let it reduce down until it was syrupy. After that, I added some fresh thyme and let it cook for a few minutes.
Once the pork chops were cooked through, I removed them from the pan and let them sit for a few minutes. Then, I served them with some roasted potatoes and a side of fresh green beans.
The pork chops were absolutely delicious. The sweet and savory flavor of the brown sugar and butter made for a great combination. The pork was juicy and tender, and the potatoes were nice and crispy. The addition of the fresh thyme really made the dish stand out and gave it great flavor.
Overall, this Brown Sugar and Butter Pork Chops recipe was a hit. It's a great way to add a unique twist to an otherwise classic dish. I'm sure that it will be a favorite at my family gatherings for years to come.
I hope you enjoyed my vlog about Brown Sugar and Butter Pork Chops. If you have any questions or comments, please leave them in the comments section below.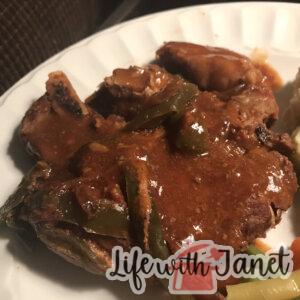 Brown Sugar and Butter Pork Chops
These pork chops are a delicious combination of sweet and savory flavors. The brown sugar and butter create a caramel-like glaze, while the cinnamon and garlic provide a hint of spice. The result is a delicious and easy-to-make dish that is sure to be a hit with your family.
Print
Pin
Rate
Ingredients
4

boneless pork chops

3

tablespoons

butter

melted

2

tablespoons

brown sugar

1

teaspoon

garlic powder

1

teaspoon

ground cinnamon

Salt and pepper to taste
Instructions
Preheat oven to 375°F.

Place pork chops in a greased baking dish.

In a small bowl, mix together melted butter, brown sugar, garlic powder, and cinnamon.

Pour mixture over pork chops and season with salt and pepper.

Bake in preheated oven for 30 minutes or until pork chops are cooked through.
Notes
Be sure to use boneless pork chops for this recipe.
You can use more or less butter and brown sugar, depending on how sweet you want the glaze to be.
If you want a spicier dish, you can add more garlic powder, or even a pinch of cayenne pepper.