Discover the world of Apple Bundt Cake, a tantalizing dessert that brings the essence of fall to your table no matter what the season. We dive deep into the most commonly asked questions, tips for perfecting the cake, and ways to serve it to leave your guests asking for more.
What's in Apple Bundt Cake?
Apple Bundt Cake captivates with its harmonious blend of ingredients that provide both texture and flavor. At the heart of this dessert are tart apples, typically Granny Smith, that give the cake its quintessential tang.
Essential Components
Cake

Granulated sugar
Vegetable oil
Vanilla extract
Large eggs
All-purpose flour
Baking soda
Ground cinnamon
Kosher salt
Granny Smith apples (peeled, cored, and diced)

Caramel Glaze

Unsalted butter
Heavy cream
Light brown sugar
Vanilla extract
| Ingredient | Measurement | Function |
| --- | --- | --- |
| Granny Smith Apples | 3 medium | Provide tartness and texture |
| Unsalted Butter | ½ cup (1 stick / 113 g) | For caramel glaze |
| All-Purpose Flour | 3 cups (375 g) | Structure |
What makes this cake special is the caramel glaze that cascades down its sides, adding a layer of sweetness to balance the tartness of the apples. For those with a penchant for varied flavors, my Caramel Apple Cake also offers a delightful twist.
How Do I Choose the Right Apples for Apple Bundt Cake?
Choosing the right apples for your cake can make or break the final product. The key lies in the balance between tartness and sweetness.
Recommended Apple Varieties
Honeycrisp: Crisp and juicy with a honey-sweet and tart flavor.
Granny Smith: Known for their crispness and sourness.
Golden Delicious: A sweet alternative if you're not a fan of tart flavors.
However, it's essential to note that tart apples like Granny Smith or Honeycrisp offer a tang that contrasts well with the buttery caramel glaze, making them prime choices for an apple cake recipe. If you're interested in exploring different apple varieties in cakes, check out my Apple Chocolate Chip and Walnut Bundt Cake for inspiration.
Tips for Making Apple Bundt Cake
Making an Apple Bundt Cake may appear daunting, but fear not. From selecting the correct apple to achieving the right consistency for your caramel glaze, every step is a journey toward perfection.
Important Tips
Use Room Temperature Ingredients: Especially the eggs and heavy cream for the glaze. This ensures an even texture.
Grease Your Pan Well: A well-greased pan is crucial for the cake to slide out easily.
Gently Fold in the Apples: Do not overmix as it will result in a dense cake.
Test for Doneness: Insert a toothpick into the cake; it should come out clean.
| Tip | Why it's Important |
| --- | --- |
| Use room temperature ingredients | Ensures an even texture |
| Grease the pan well | Facilitates easy removal of the cake |
For those looking to experiment beyond the traditional Apple Bundt Cake, my Pineapple Pound Cake offers a tropical twist to the classic pound cake.
How to Serve Apple Bundt Cake?
When it comes to serving this cake, the possibilities are endless. From a casual Sunday brunch to an elegant holiday dinner, this cake adapts to every setting.
Serving Suggestions
With a dollop of vanilla ice cream
A dusting of powdered sugar
Paired with a cup of strong coffee or tea
Consider skipping the caramel glaze for a less sweet version, particularly if you are serving it with other sugary treats. The cake itself has a balanced flavor profile that stands well on its own. You could also explore other cake recipes such as my Apple and Cream Cheese Bundt Cake for cream cheese lovers.
What Do Red Apple Bundt Cakes Taste Like?
Red Apple Bundt Cakes offer a different sensory experience compared to their green apple counterparts. Typically, red apples like Fuji or Gala are sweeter, which translates to a less tart and more sugar-forward cake.
Flavor Profile
Sweeter Overall Flavor: Less tartness means a sweeter cake.
Softer Texture: Red apples generally have a softer texture, leading to a less crisp bite in the cake.
If you are a fan of a more traditional and tart cake, sticking with green apples is advisable. However, if you wish to explore beyond the conventional, a Red Apple Bundt Cake offers a delightful twist. Just remember, no matter the apple variety, the essence of a good Apple Bundt Cake lies in its balance of flavors and textures.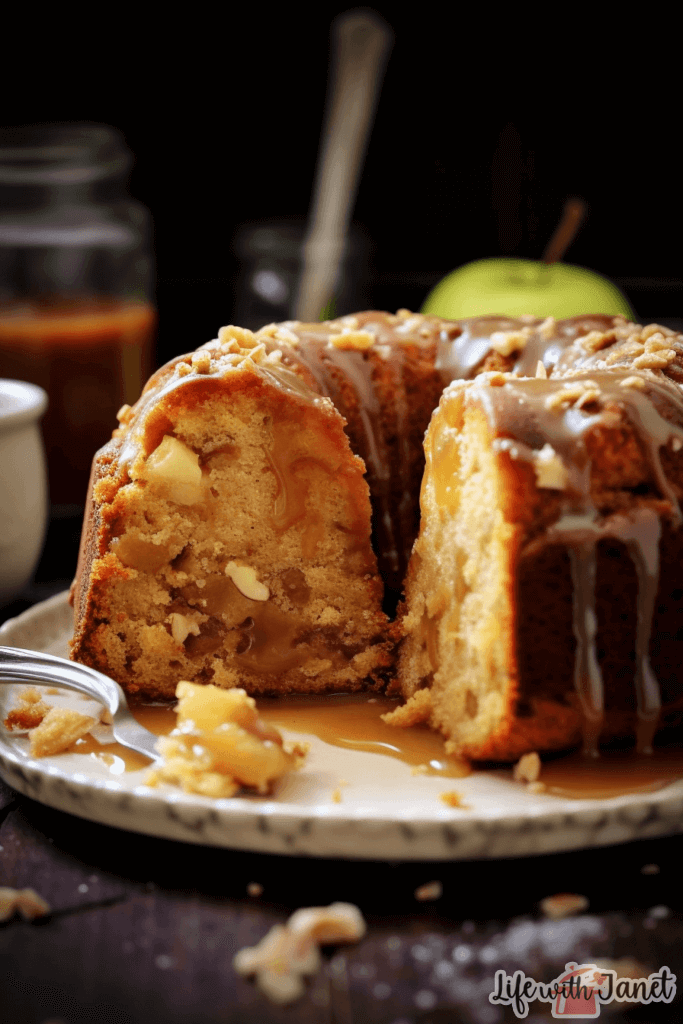 How to Store and Preserve Apple Bundt Cake?
The joy of Apple Bundt Cake isn't confined to just the day you bake it. Storing it properly means you can savor its goodness for days, or even months if you freeze it.
Storage Options
Room Temperature: Store the cake in an airtight container and it will stay fresh for up to 3 days.
Refrigerator: Using the same airtight container method, you can extend its life to up to 5 days in the fridge.
Freezing: To freeze the cake, avoid adding the glaze until you're ready to serve. Place it in an airtight container or freezer-safe sealable plastic bag.
| Storage Method | Duration | Special Instructions |
| --- | --- | --- |
| Room Temperature | Up to 3 days | Airtight container |
| Refrigerator | Up to 5 days | Airtight container |
| Freezer | Up to 3 months | No glaze; airtight container or bag |
When you're ready to serve the cake after freezing, thaw it in the refrigerator overnight and let it come to room temperature before drizzling with glaze and serving. Given the variety of cakes you can explore, if you're into baking, perhaps try my pound cakes like Pineapple Pound Cake to understand how different flavors and ingredients impact storage life.
Bonus: Can You Customize the Apple Bundt Cake?
While the Apple Bundt Cake recipe holds a special place in many hearts just as it is, one of the beauties of baking is the freedom to experiment. For those willing to tread into unknown territories, variations on the original theme can yield delightful results.
Creative Variations
Spices: A dash of nutmeg or a sprinkle of cloves can bring a new dimension.
Nuts: Walnuts or pecans can add a crunchy texture.
Dried Fruit: Consider adding raisins or dried cranberries for extra chewiness.
Each twist on the classic Apple Bundt Cake can offer an entirely new tasting experience. If you're looking for more inspiration on how to diversify your cake recipes, my Apple Cake Recipe in Bundt Pan provides an interesting take on incorporating different ingredients.
Apple Bundt Cake Drizzled with Caramel Sauce
Indulge in the sweet and tart goodness of our Apple Bundt Cake, topped off with a luscious caramel sauce. A dessert that's perfect for all seasons, but an absolute must-try during fall!
Print
Pin
Rate
Ingredients
For the Cake:
Granulated Sugar: 2 cups

400 g

Vegetable Oil: 1 ½ cups

327 g

Vanilla Extract: 2 teaspoons

Large Eggs at Room Temperature: 3

All-purpose Flour: 3 cups

375 g

Baking Soda: 1 teaspoon

Ground Cinnamon: 1 teaspoon

Kosher Salt: 1 teaspoon

Granny Smith Apples

Peeled, Cored, and Chopped: 3 medium
For the Caramel Glaze:
Unsalted Butter: ½ cup

1 stick / 113 g

Room-Temperature Heavy Cream: 2 teaspoons

Packed Light Brown Sugar: ½ cup

Vanilla Extract: 1 teaspoon
Instructions
Prepping the Cake:
Preheat your oven to 325°F (163°C). Grease a 9-inch bundt pan lightly with non-stick cooking spray. Put aside.

Take a large mixing bowl. With a hand mixer set to medium speed, blend together the sugar, vegetable oil, vanilla extract, and eggs.

In another bowl, sift the flour and combine it with the baking soda, cinnamon, and kosher salt.

Incorporate the sifted dry ingredients into the sugar-oil mixture. Mix only until they come together.

Fold in the chopped Granny Smith apples into the batter. Avoid overmixing.

Empty the batter into your prepared bundt pan and smooth out the top.
Baking the Cake:
Place the pan in the preheated oven. Bake for 55-70 minutes or until a toothpick inserted comes out clean.

Take the cake out and let it rest for 15-20 minutes within the pan. Afterward, flip it onto a wire rack for further cooling.
Crafting the Caramel Glaze:
On medium heat, in a small saucepan, combine butter, heavy cream, and brown sugar. Stir until the sugar has completely dissolved.

Take off the heat and infuse the vanilla extract. Mix well.

Allow the glaze to thicken for about 5-10 minutes.
Final Touch:
Drizzle the caramel sauce over the cake once it's sufficiently cooled. Your homemade Apple Bundt Cake is ready for devouring!
Nutrition