When it's about comfort food that warms your heart and soul, one dish often stands out – the revered Hamburger Potato Casserole. This hefty casserole is a symphony of flavors, combining the earthiness of potatoes with the heartiness of ground beef, all under a lush blanket of melted cheese.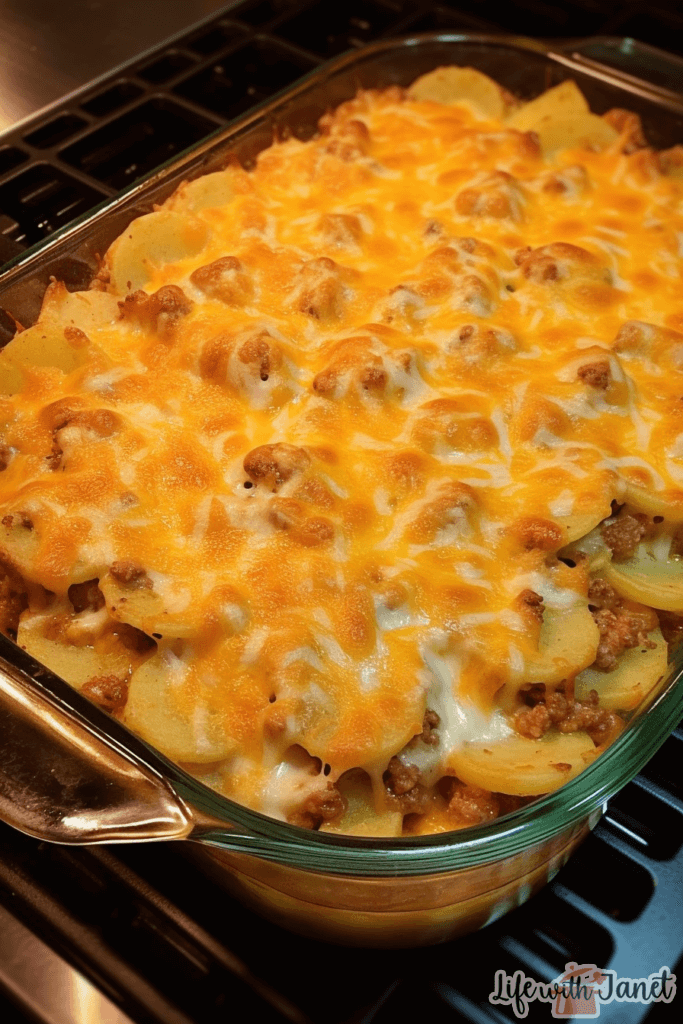 Cooking Up a Storm: Hamburger and Potato Casserole
A Hamburger Potato Casserole isn't just a dish; it's an experience, an adventure. It brings together humble yet flavorful ingredients like Yukon gold potatoes, savory lean ground beef, sweet yellow onion, enticing minced garlic, and a wholesome mix of cream of mushroom soup, half and half, and delightful Colby jack cheese. The best part about this dish is its simplicity. You don't need to be a Michelin-star chef to whip up this culinary masterpiece.
Adding Your Unique Twist: Hamburger Casserole with Potatoes
The beauty of the Potato Hamburger Casserole lies in its adaptability. It's a canvas that allows your culinary creativity to shine. You can switch the cream of mushroom soup with a cheddar cheese soup if you fancy an extra kick of cheesiness. Play around with your choice of shredded cheese until you find the one that makes your tastebuds dance.
Crafting Your Masterpiece: Hamburger Potato Casserole Recipes
Assembling this inviting Potato and Hamburger Casserole is as enjoyable as devouring it. Start by browning your ground beef and stirring in the diced onions and garlic. Slice your potatoes and start layering! The varied textures and flavors come together through the layering process, resulting in a dish that's more than the sum of its parts.
Complement Your Dish: Pioneer Woman Hamburger Potato Casserole
While a Crock Pot Hamburger Potato Casserole is a showstopper in itself, the right accompaniments can elevate your meal to new heights. Balance the richness of the casserole with a fresh Caesar salad or some roasted vegetables. Or indulge in some beautiful garlic bread or dinner rolls. They're great for mopping up any delicious morsels that are left on your plate.
Preserving the Goodness: Hamburger Potato Casserole Crock Pot
One of the best parts about our Hamburger and Potatoes Casserole is how well it keeps. Got leftovers? No problem! This Hamburger Casserole Mashed Potatoes can be stored in an airtight container and will keep in the fridge for up to four days. You can also freeze it for up to two months, ready to be enjoyed at a moment's notice.
In essence, whether it's the regular Hamburger Potato Casserole, a moonlit dinner with Hamburger Casserole with Potatoes, or opting for convenience with a Crockpot Hamburger Potato Casserole, this recipe is sure to create memorable dining experiences. So put on your chef's hat and prepare for a gastronomic journey that's bound to delight!
Hamburger Potato Casserole
Ready for a dish that screams comfort food? Allow us to introduce this incredibly delicious Ground Beef and Potato Casserole. With its rich flavors and creamy, cheesy layers, it's a surefire hit for dinner tables across America.
Print
Pin
Rate
Ingredients
Potatoes: 2.5 pounds of Yukon gold potatoes

that's around 8-9 medium-sized ones!

Ground Beef: 2 pounds

lean

Sweet Yellow Onion: 1 cup

finely diced

Garlic: 1 tablespoon

minced

Cream of Mushroom Soup: 10.5 ounces

Great Value brand is a good option

Half and Half: 1 cup

Onion Powder: 1 tablespoon

Salt: 1½ teaspoons of kosher

Black Pepper: 1 teaspoon

freshly cracked

Colby Jack Cheese: 3 cups

freshly shredded and divided
Instructions
Prep the Potatoes: Thinly slice the potatoes, about ⅛-inch thick, and immediately plunge them into water. This helps to keep them from going brown while you prep everything else.

Heat Up: Preheat your oven to a cozy 350°F (177°C). Lightly grease a 9×13-inch baking dish and set it aside for now.

Meaty Matters: In a sizable 4-5 quart saucepan or Dutch oven, brown the ground beef, diced onions, and garlic over medium-high heat. Frequently stir and crumble the beef. Drain off any excess oil.

Sauce Time: In a separate bowl, mix together the cream of mushroom soup, half and half, onion powder, kosher salt, and freshly cracked black pepper. Stir until it's all one big happy family.

Layer Up: Drain your potato slices. Place a third in the bottom of the baking dish. Top with a third of the meaty mix and ¾ cup shredded cheese. Drizzle a third of the creamy sauce over it.

More Layers: You're not done! Repeat with another layer of potatoes, meat, cheese, and sauce.

Final Touches: Add a last layer of potatoes and meat. Douse with the remaining sauce and crown with 1½ cups of shredded cheese.

Bake It: Cover the dish tightly with foil and bake for about 1 hour and 10 minutes. Then, unveil and bake for another 20 minutes.

Cool Off: Let it rest for 15 minutes before serving. Seriously, it's lava hot!
Notes
Assemble in advance and refrigerate if needed.
Feel free to keep potato skins on or peel them. Your kitchen, your rules!
Ovens are quirky; keep an eye on your dish towards the end.
Nutrition