Meat and Potato Casserole is one of those dishes that wraps you in a warm hug, reminding you of home, comfort, and nostalgia. Within a mere hour, you can whip up this savory delight that's bound to impress at family gatherings, potlucks, or even a simple dinner date at home. I've been relishing this recipe for years, and every time I serve it, there are echoes of "seconds, please!" around the dining table. For those who have a penchant for rich and hearty dishes, this casserole will become your next obsession.
No gourmet chef skills? No worries! The beauty of this casserole lies in its simplicity. I assure you, once you give it a shot, it's going to have a permanent spot in your dinner rotation.
Can you layer all of the ingredients instead of making a potato crust?
Absolutely! However, keep in mind that our spud friends require a bit more time in the oven. To get that ideal tender bite, it's recommended to bake them separately first. But hey, cooking is an art, and every artist has their canvas. Feel free to experiment!
Thinking of side dishes to complement the casserole?
One might wonder what could possibly accompany such a complete dish. How about some freshly baked bread rolls or a light green salad? A refreshing fruit salad can also offer a delightful contrast. The world's your oyster when it comes to side dishes!
How about reheating this beauty?
Leftovers are a blessing with this dish. Easily zap single servings in the microwave or for an entire baking dish, preheat your oven, cover your casserole with foil, and warm it up. Quick tip: Make sure it's heated thoroughly before serving. And the best part? This delectable treat can be stored in the fridge for up to 3 days. Talk about convenience!
So, the next time you're pondering over what to cook, give the Meat and Potato Casserole a whirl. Trust me, it's a dish that will have your family and friends asking for the recipe.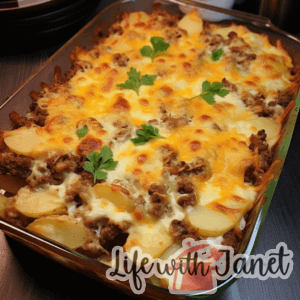 Meat and Potato Casserole
Originating from Farley, Iowa, this Meat and Potato Casserole is a delightful dish introduced by Marna Heitz. While its original version uses cream of celery soup, you can experiment with other cream soups, such as mushroom. However, for a first-time taste, stick to the classic recipe below.
Print
Pin
Rate
Instructions
Preheat your oven to 400°F. In a mixing bowl, combine the sliced potatoes, melted butter, and salt. Layer this mixture at the base and along the sides of a 13×9 inch baking dish. Bake for 25-30 minutes, or until the potatoes are nearly tender.

As the potatoes bake, brown the ground beef in a skillet over medium heat. Once cooked through, drain any excess fat. Evenly layer the beef and corn over the baked potatoes. In a separate bowl, mix together the cream soup, milk, garlic powder, pepper, onion, and half of the shredded cheese. Pour this mixture over the beef.

Return to the oven and bake, uncovered, for an additional 20 minutes, or until the casserole has heated through and the veggies are tender. For a golden finish, sprinkle the remaining cheese on top and bake for an extra 2-3 minutes. Garnish with minced parsley, if you prefer.