Diving into a beef enchilada casserole is a delightful experience, enveloping your senses in a Tex-Mex symphony. This beef enchilada recipe, richly seasoned and brimming with flavor, is not just any regular meal but a journey through years of culinary expertise. Whether you're hosting a festive gathering or seeking a comforting weeknight dinner, this dish promises to be an instant crowd-pleaser. Allow me to share a secret – after a decade of perfecting this recipe, the satisfaction it brings never dulls.
Why This Ground Beef Enchilada Recipe Stands Out
This beef enchilada recipe is more than just a list of ingredients; it's like a big hug from someone you love, a result of many kitchen experiments, and the chase for that oh-so-perfect bite. Imagine taking a forkful that's got juicy beef, a hint of spice, and a kick from green chiles. And oh, when you pull it out hot from the oven and top it with smooth avocado and a dash of cilantro? No wonder my family asks for it over and over again!
Diving Deeper: The Ingredients of the Best Beef Enchilada Recipe
At the heart of every delicious dish is a combination of quality ingredients. For this beef enchilada casserole, the choice of beef matters. While organic lean ground beef is my go-to, don't hesitate to experiment with shredded beef barbacoa or even plant-based meats. The enchanting blend of onions, garlic, and green chiles ensures a fragrant filling, while beans add depth and texture. The type of tortilla, be it corn or flour, can shape the final flavor, and a generous sprinkle of cheese just elevates the dish. A good beef enchilada is not just about the filling; the sauce is the soul, and my homemade red enchilada sauce recipe ensures your enchiladas are bathed in a rich, flavorful embrace.
Every kitchen maestro knows the joy of improvisation. If you're in the mood to explore, why not switch the red sauce for a green enchilada variant? Looking for a gluten-free version? Opt for corn tortillas and a gluten-free sauce. For those leaning towards vegetarian options, the plant-based meat replacements coupled with an array of veggies makes for a scrumptious beef enchilada casserole recipe.
Plan Ahead: Making Your Beef Enchilada Recipes Last
The beauty of this easy beef enchilada recipe lies not just in its flavor but also its versatility. Whether you want to prep ahead or freeze for future feasts, this dish allows for both. Imagine the convenience of a ready-to-bake beef enchilada casserole on a busy day! However, a small tip for the uninitiated: if you're freezing, it's advisable to do so before baking to retain the tortilla's crispiness.
Final Thoughts: The Ground Beef Enchilada Casserole Experience
A plate of warm, hearty beef enchiladas is more than just a meal. It's an embrace, a cherished memory, and a promise of comfort. Whether you're trying this recipe for the first time or the hundredth, the joy it brings remains unparalleled. Dive in, savor each bite, and let the flavors tell their story.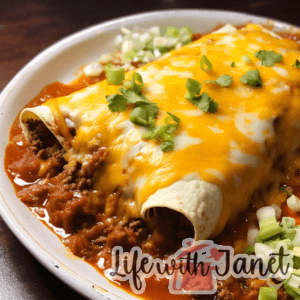 beef enchiladas
Dive into the world of flavors with these beef enchiladas, paired with a delectable homemade red enchilada sauce. Perfect for gatherings, this dish is bound to win hearts!
Print
Pin
Rate
Ingredients
1

batch of red enchilada sauce

Alternatively, 15 ounces of store-bought red enchilada sauce

1

tablespoon

olive oil

1

small white onion

finely chopped

4

garlic cloves

minced

24

ounces

lean ground beef

1

teaspoon

ground cumin

1

can

15 ounces pinto beans, washed and drained

1

can

4 ounces diced green chiles

Sea salt and freshly-ground black pepper

to taste

8

large flour tortillas

3

cups

shredded Mexican cheese blend

Toppings: Fresh cilantro

red onions, avocado cubes, sour cream, and crumbled cotija cheese
Instructions
Whip Up the Sauce: Follow the recipe instructions to craft the enchanting red enchilada sauce.

Craft the Beef Mixture: In a large pan, heat oil over medium-high flame. Add onions and garlic, sautéing for 3 minutes. Introduce the ground beef and cumin. Sauté until the beef is fully browned, which usually takes about 5 minutes. Incorporate the beans and green chiles. Season with salt and pepper according to your taste.

Ready the Oven & Dish: Preheat the oven to 350°F (180°C). Use 1/2 cup enchilada sauce to evenly coat the base of a 9 x 13-inch baking dish.

Roll the Enchiladas: Set up an assembly line: tortillas, enchilada sauce, beef mixture, and cheese. Lay a tortilla flat, smear two tablespoons of sauce on it. Add a generous portion of the beef mixture down the tortilla's center, topped with 1/3 cup of cheese. Roll the tortilla and position it in the baking dish. Repeat for the remaining tortillas. Drizzle any leftover sauce on the enchiladas and top with residual cheese.

Baking Time: Place the dish in the oven and bake for 20 minutes or until the enchiladas are thoroughly cooked, and the tortilla edges turn crispy. Once done, shift the dish onto a wire rack.

Serve Hot: Plate the beef enchiladas while they're sizzling. Garnish with your chosen toppings and savor the feast!