Savory Mushroom Beef Casserole is a dish that wraps your taste buds in luxurious layers of flavor. A blend of ground beef, mushrooms, and a creamy sauce, this dish is perfect for cozy weekends, family gatherings, or even impressing your dinner guests. With a prep time of just 15 minutes and a cooking time of 20 minutes, you can have a hearty meal that's sure to become a household favorite. If you're craving something both decadent and easy to make, look no further!
The Basics of Making Savory Mushroom Beef Casserole
You don't need to be a Michelin-starred chef to prepare this culinary masterpiece; it's fairly straightforward. The ingredients are simple yet combine to create a rich and flavorful experience. At the heart of this casserole is ground beef and mushrooms, and the magic happens when they come together with the cream cheese, eggs, and seasonings. Trust me, once you get a bite, you'll wonder why you haven't made this sooner!
Can I Use Different Types of Mushrooms?
Absolutely! While the recipe calls for sliced mushrooms, you can easily swap these out for other varieties like portobello, shiitake, or even a gourmet mushroom blend. Keep in mind, each type of mushroom will bring its unique flavor and texture to the casserole. Sometimes, I like to use a mixture of different mushrooms to add a new dimension to the dish. Feel free to experiment!
Why is My Casserole Too Runny?
If you find your casserole is too runny, the issue might be in the cream cheese and egg mixture. Be sure to blend these thoroughly until smooth. It's crucial that you pay attention during this step. Skipping it or rushing through could leave you with a less-than-perfect texture. Make certain to blend until smooth, so your casserole turns out just right.
Can I Make This Casserole Ahead of Time?
Yes, you can! One of the great aspects of this Savory Mushroom Beef Casserole is that it's highly adaptable. You can prepare the components ahead of time and simply assemble and bake when you're ready. It makes weekday dinners a breeze and allows you to serve something wonderful without spending hours in the kitchen on the day itself.
To Freeze or Not To Freeze
While this dish is best enjoyed fresh, you can indeed freeze it. Prepare the casserole but stop before the baking step. Cover it tightly with foil and freeze. When you're ready to enjoy it, bake it an extra 5-10 minutes to make sure it's heated all the way through. The convenience of this make-ahead method is undeniable, especially for busy weeknights or surprise guests.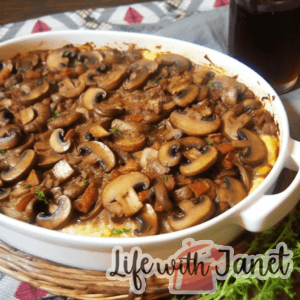 Savory Mushroom Beef Casserole
Ready for a culinary adventure that blends the earthy richness of mushrooms with the hearty goodness of ground beef? Meet the Savory Mushroom Beef Casserole. It's the comfort food you never knew you needed. This dish offers depth of flavor and simplicity in preparation, making it an ideal choice for dinners with family or any occasion where you'd like to serve up some home-cooked love.
Print
Pin
Rate
Instructions
No culinary degree needed for this dish! Start by preheating your oven to 350 degrees Fahrenheit. Brown the ground beef in a skillet, seasoned to your liking with salt and pepper. Drain excess fat and set aside. Next, in the same skillet, melt butter to sauté the sliced mushrooms until tender. Season them with minced garlic, seasoning salt, fresh parsley, and pepper. In a separate bowl, blend together softened cream cheese and eggs until smooth. Layer the beef and pour the cream mixture over it in a baking dish, topping it off with mushrooms. Bake for 20 minutes, garnish with parmesan, and it's ready to serve!