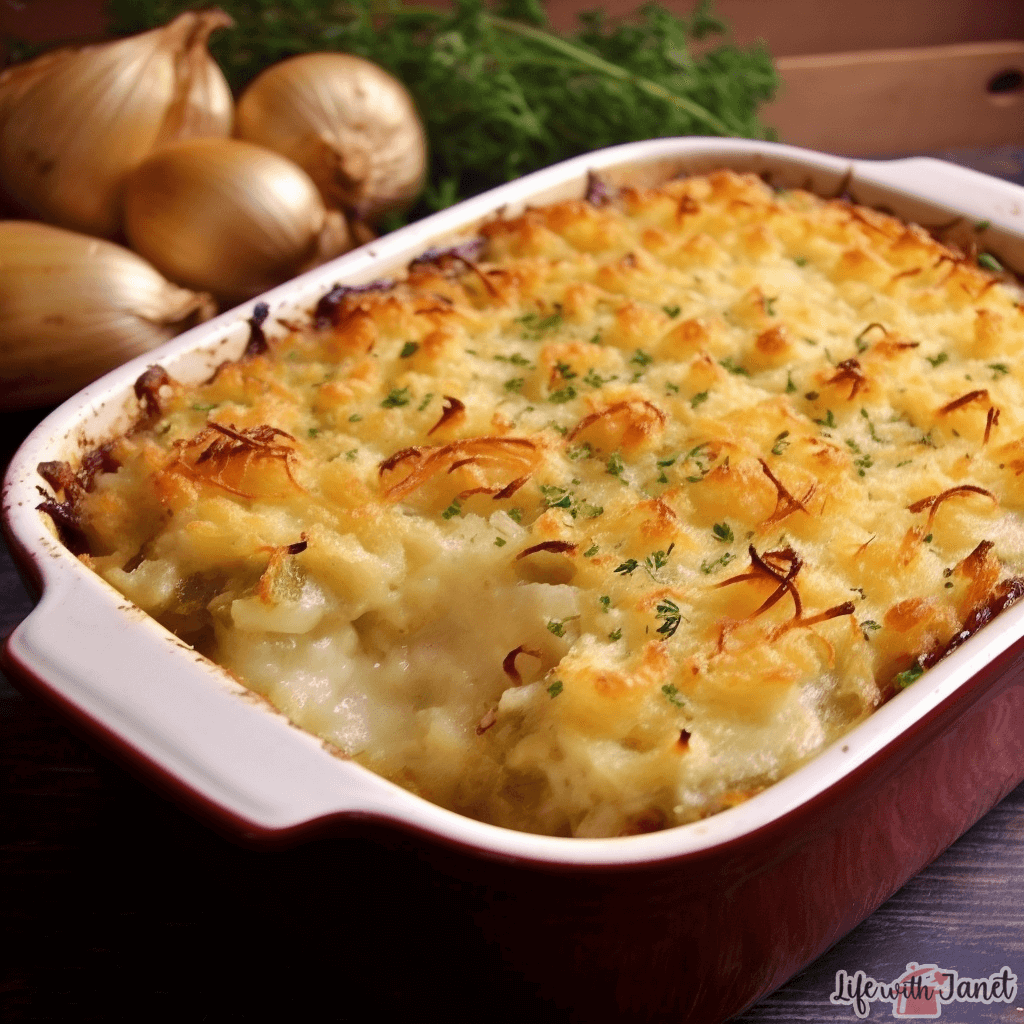 There's something irresistibly comforting about a casserole, especially when it features sweet Vidalia onions in a symphony of flavors. With its buttery cracker crumb topping and creamy base, Sweet Onion Casserole is an easy-to-make side dish that pairs beautifully with just about anything. Moreover, it's a star on its own! Just like a cherished family recipe, this Southern delight not only captures the essence of comfort food but also steals the limelight at any gathering.
The Quintessential Southern Ingredient: Vidalia Onions
When it comes to southern cuisine, nothing screams comfort quite like Vidalia onions. Known for their sweetness, these Georgia-grown bulbs are the cornerstone of our Southern Sweet Onion Casserole. Typically, you'd think caramelizing would be the path to amplify an onion's natural sweetness, but not here. Odd as it may sound, boiling is the technique of choice. This method softens the onions and enhances their sweetness, making them the perfect base for this casserole.
Cooking Method: Boiling Over Caramelizing
Sure, you could spend ages caramelizing onions on the stovetop, but who has the time for that? The brilliance of this recipe lies in its simplicity and speed. Boiling the onions not only tenderizes them but also rids them of any astringency, leaving you with an ingredient that's all sweetness and light. This unexpected approach, when juxtaposed against traditional methods, offers a refreshing, yet deeply satisfying, culinary experience.
Blend of Textures: Cracker Crumbs and Cheese
Ah, what's a casserole without a blend of textures? Here, cracker crumbs and cheddar cheese serve as more than mere filler; they are co-stars in their own right. The cracker crumbs soak up the onion-infused liquid, offering intermittent bursts of crunchy delight, while the cheddar cheese adds a tangy richness. All these elements work in concert to elevate the humble Vidalia onion into a gourmet experience.
That Buttery Crumb Topping: The Finishing Touch
If there's one thing that really tips this dish from great to spectacular, it's the buttery crumb topping. Melted butter drizzled over cracker crumbs transforms into a crispy, golden layer in the oven. The juxtaposition of this crunchy top against the soft, savory onion base creates a harmonious balance, making each bite a textural adventure.
Ideal Pairings: The Versatile Side Dish
It's not just the flavor profile that makes Sweet Onion Casserole such a hit; it's also its versatility. Whether you're having grilled chicken, steak, or even a turkey dinner, this side dish knows how to play well with others. Heck, it's so good, it often ends up stealing the show!
So there you have it: our ode to the marvel that is Southern Sweet Onion Casserole. It's a dish that may seem simple on the surface but is layered with complexity and contrasting textures, making it a must-try for any occasion. Give it a whirl, and you'll soon find out why this dish is a staple in Southern households.
Southern Sweet Onion Casserole
If you're a fan of comfort food, you've gotta try this Sweet Onion Casserole. It's simple, it's quick, and oh-so-delicious! Trust me, it's the kind of dish that leaves you craving for more. And did I mention it pairs excellently with almost any main course? You're in for a treat!
Print
Pin
Rate
Ingredients
3

large eggs

2

tablespoons

of unsalted butter

1

teaspoon

of salt

1/4

teaspoon

of pepper

4

large Vidalia onions

halved and sliced 1/4-inch thick

1

can

5 oz of evaporated milk

1 1/2

cups

of grated cheddar cheese

1

cup

of crumbled Ritz crackers

For The Topping

3

tablespoons

of melted butter

1

cup

of crumbled Ritz crackers
Instructions
Start by preheating your oven to 375°F. Grease a 9×13-inch baking dish with nonstick spray.

Put your onion slices in a saucepan, add just enough water to cover them, and bring it to a boil. Reduce the heat and let it simmer for 8 minutes. Drain and mix the onions with butter.

In a sizable bowl, whisk the eggs and evaporated milk together. Add in the buttered onions, cracker crumbs, cheddar cheese, salt, and pepper. Stir it all up.

Pour the mixture into the greased baking dish. For the topping, combine the melted butter and cracker crumbs. Sprinkle it over your casserole.

Bake until the center sets and the top turns a delicious golden brown, about 45 minutes.