Last April I had the opportunity to travel through Morocco. Throughout my trip I visited Casablanca, Marrakech, Ouarzazate, and the Sahara Desert. We scaled the Atlas Mountains by teetering bus and stared at the Milky Way for what will never be enough time. I gained an immense amount of insight into Islam as well as some of their cultural customs. Looking back on my trip, I realize that I could probably give you a thousand reasons you should spend some time in this amazing country. However, for the sake of this article and your sanity, I managed to narrow it down to my top five.
Foodie Heaven
I have always listed Moroccan cuisine as one of my favorites out of the seventeen countries I have visited. Not only does every dish brim with flavorful spices and herbs but it is also usually accompanied by a delicious Moroccan mint tea. Most likely your meal will consist of a chicken tajine, couscous, Moroccan salads, and bread to pile everything on. It is typical to eat with your right hand only and usually meals are served in a way that you share with those you are sitting with. While enjoying your meal, the restaurant may provide you with musical entertainment or even belly dancers.
Marrakech
You could spend hours exploring Marrakech. To be honest, you could spend hours just exploring the Djem El Fna square. The square is packed with tons of little shops where you can find leather goods, wall hangings, lanterns, freshly squeezed fruit juice, Moroccan oil, and tea sets. If you venture out of the square and into the skinny streets behind it you will find even more shops that have baskets filled with colorful spices or some restaurants to eat delicious food. While I was there, we even met someone that led us to the tannery where we got a first hand glimpse of the leather making process.
Sahara Desert
Nothing quite compares to a Saharan night sky. My dreams are still haunted by the thousands of dancing stars that night. If you are lucky enough to be led on a camel trek by the traditional Berber men of Morocco, then you will be greeted with this marvelous display as soon as the sun sets behind the large sand dunes looming just outside your camp. My group and I spent the entire night up on one of those sand dunes with a ukelele and bundles of blankets singing songs and counting shooting stars. Plus, when will you ever get to say you rode a camel across the Sahara?
Islam
Since Morocco is an Islamic country, traveling there allows you the chance to gain greater insight into this religion. The best way to truly understand something you are unfamiliar with is to immerse yourself within it. Moroccan people are very friendly and willing to discuss their religion and beliefs as long as you are respectful and courteous to them as well. I was given the opportunity to attend a small panel discussion with three female university students and learned an incredible amount about their lives, culture, and religion.
Adventures in a Kasbah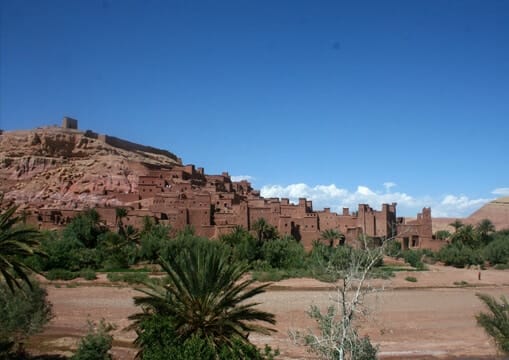 A kasbah is the fortress or walled citadel of many North African cities. Many were built throughout Morocco and are rich in history and beauty. We visited some throughout my time there including the one where the movie Jewel of the Nile was filmed. While we was staying in Ouarzazate, my group and I were given the opportunity to attend a fantastic dinner at a kasbah where we ate traditional food beneath the stars and listened to Moroccan music. There were three different Moroccan music groups playing three different styles of music. They brought many of us out to where they were playing so we could learn traditional dance moves and just enjoy the music. They handed us instruments to try and also their traditional outfits to put on over our clothes as we danced in the kasbah. At one point they even had us do a conga line throughout the kasbah which offered us a truly unique way of exploring the fortress.