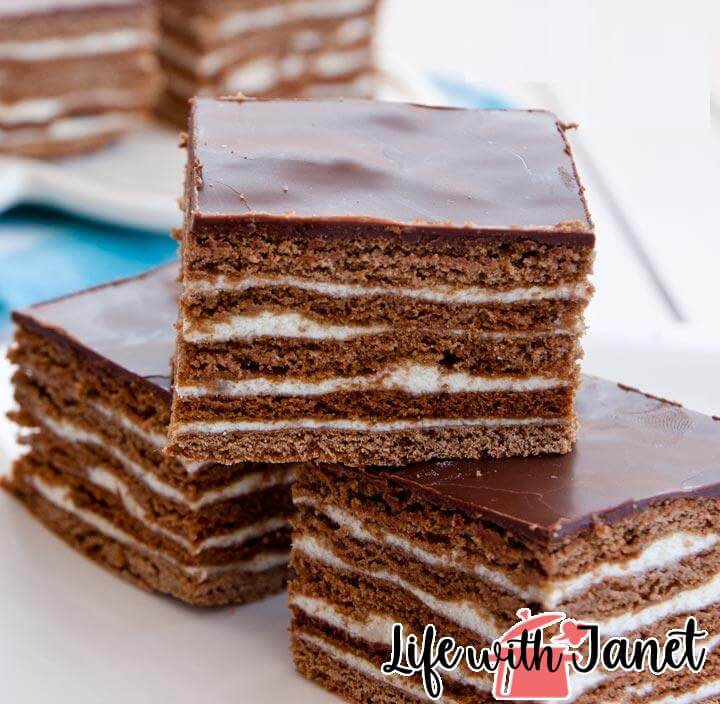 A layered dessert that although it is not prepared very easily, the pleasure that offers after you have tried the first piece will assure you that all your effort and time spent was worth it.
Ingredients
450 g flour

1 egg

150 g sugar

1 tbls sodium bicarbonate

50 g margarine

2 tbs milk

2 tbs honey

1 tbs cocoa powder
Filling
2 ½ tbs flour

400 ml milk

3 tbs sugar

150 g butter

10 g vanilla sugar
Instructions
Cut three baking papers with a size of the baking pan and one half (the original recipe says four large ones).

Prepare the biscuit: in a cooking bowl, with a mixer, mix the egg together with the margarine, the milk, the honey, the sugar, the cocoa powder and sodium bicarbonate. After the mixture is well mixed, put the bowl on fire and while, constantly mixing, boil it until the mixture becomes foamed.

Place the bowl aside, add the flower, knead a smooth batter and split it in 2 pieces (if you are more experienced you even can in 3 or 4 pieces).

While the batter is still warm, knead it on the baking paper, as thin as you can. With a knife, cut the edges so you can get a nice cube and cut it in half so as to get two rectangle surfaces.

Repeat the procedure with the other batters too, assuring yourself to get the same cube as the previous while cutting the edges.

The rest of the batter (from the edges you have cut), knead it a bit and make another rectangle (half cube).

Heat the oven up to 180 degrees. The batter, together with the baking paper, place on the baking pan that you have turned around. Bake each batter around 6-7 minutes or until the edges start cracking a bit.

Wrap the rectangles in a towel and leave them like that until you prepare the filling.

Put the milk to boil. The flower, the sugar and the vanilla sugar, aside, mix with several spoons of the milk and when the milk has boiled, add them in it. Mix until you get a dense mixture like a pudding.

Leave the mixture to get cold and add the butter. Mix with a mixer until you get a nice, homogenous mixture.

With the filling, fill the crusts so as to while filling, you will carefully push them, caring not the break them.

On water bath, melt the cooking chocolate together with 3 spoons of oil. With this chocolate glaze spill over the cake and leave it in a refrigerator for a minimum of 5 to 6 hours for biscuit to soften.