My kids love to snack on Driscoll's strawberries or take them in their lunch. They loved trying their sweet yet tart blueberries in this Lemon Blueberry Bread. It's so moist they kept calling it cake.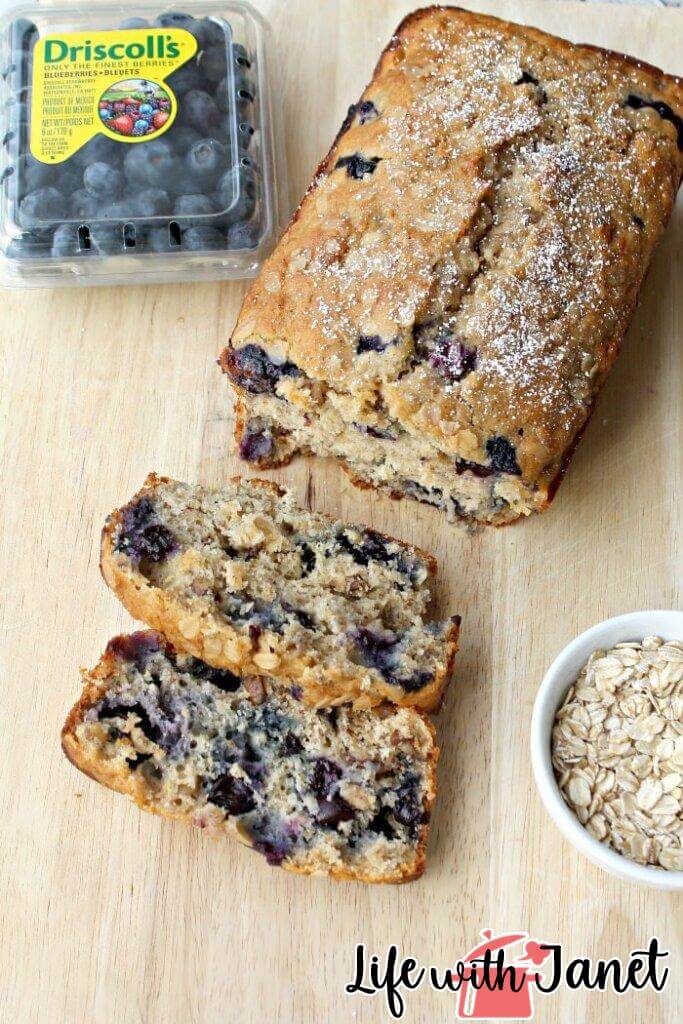 The bread is super simple to make. The hard part is waiting the two hours to cool so that it doesn't fall apart when you slice it! The Walnuts add a bit of earthiness and texture, and the lemon accentuates the blueberries and adds brightness. I liked the added sweetness of the confectioner's on top. This bread is delicious, but it's not overly sweet, and the powdered sugar adds just the right touch.
I have been having this Lemon Blueberry Bread for breakfast and snacks the last couple of days. That's a bonus of this recipe- it will last a few days, so you definitely get bang for your buck. It is heavenly reheated with just a bit of butter. We definitely need to eat well and work into our diets good things like oats and berries, but who says the dish needs to be school cafeteria boring? Put on your good shoes and make some Lemon Blueberry Bread.
Ingredients
½ cup brown sugar

2 eggs

½ cup sour cream

¾ cup milk

1 teaspoon vanilla

½ cup vegetable oil

2½ cups all purpose flour

1 cup old fashioned oats

¼ teaspoon salt

3 teaspoons baking powder

1 teaspoon cinnamon

zest of 1 lemon

1 cup walnuts

1 cup Driscoll's blueberries
Instructions
In a large mixing bowl gently combine brown sugar, milk oil, sour cream, vanilla, and eggs.

Add remaining dry ingredients except walnuts and blueberries and slowly mix together.

Dust blueberries lightly with flour to prevent from sinking when baking.

Gently fold in blue berries and walnuts.

Pour batter evenly into loaf pan.

Top with additional oats if desired.

Bake for approximately 45 minutes or until an inserted test toothpick comes out clean.

Cool in pan for 10 minutes.

Gently remove from pan and let cool on a rack for 2 hours.

Sprinkle top with confectioner's sugar if desired.

Keep covered. Bread will be fresh for approximately 4 days.