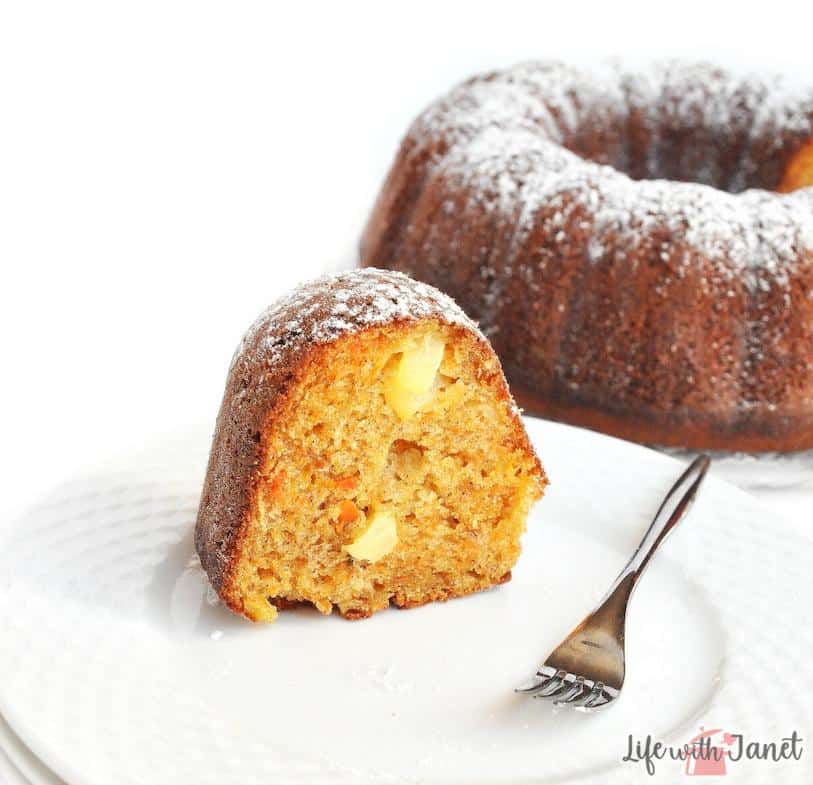 Things have been busy the last few days here, we have and are trying to jump through all the right hoops to ensure that everything is in place for the transfer abroad. And let me be the first one to say that hoops are not always so easy to jump through, and I will be so relieved once we step on American soil. There is still a lot that needs to happen before we get there, and we are walking forward by faith alone!
On a slightly sweeter note, I love carrots. The are naturally sweet and can compliment anything from cakes to sauces to salads. And a great compliment to carrots (at least in cake) is pineapple! I think that the cake is moist and sweet enough as is and does not need the extra accompaniment of frosting. And without all the added sugar, you could even pass this by as a healthier cake option!
Carrot and Pineapple Cake Recipe
So, if you are looking for something a little sweet this weekend but don't want to feel guilty about it, try this wonderful cake.
Print
Pin
Rate
Ingredients
2 cups (300 g.) all-purpose flour

2 tsp. baking soda

1 tsp. baking powder

1 tsp. salt

2 -3 tsp. ground cinnamon

1  cup sugar

1 cup  oil

3 eggs

1 tsp. vanilla extract

2 cups shredded carrots

1 cup flaked coconut, optional

1 (8 ounce) can crushed pineapple, drained
Instructions
Preheat your oven to 350°/175°. Grease and flour a 9/13″ pan or bundt cake pan. Mix all of your dry ingredients together. Make a well in the center and add the sugar, oil, eggs, and vanilla. Mix all together with a wooden spoon until smooth. Stir in carrots, pineapples, and coconut flakes mixing until incorporated but being careful not to over beat. Bake for 45-60 minutes or until a tooth pick is inserted and removed clean. Let cool 10-15 minutes in pan and then invert on a cooling rack if using a bundt pan. Sprinkle with powdered sugar if you'd like and enjoy every bite!