If you are looking for a new, special, and tasty recipe for your dinner then you will love the garlic steak butter and potatoes skillet. It is perfect for date nights, romantic evenings, family dinners, and even gatherings. You can never go wrong with this dish, the juicier is the steak, the more taste it adds to the whole dish. By reading just the name, you can guess the nutritional and protein level that is perfect for your body. 
The taste-rich steak and the crispy potatoes are made in one pan in the oven. It requires only 30 minutes if you have all things in the house. If you are craving meat and potatoes, then you have to try this recipe. Moreover, you should try sear steak not without it as it helps to give a brown crispy steak from the outside and keeps it juicy from inside. Some people use baby potatoes but russet potatoes are also recommended. 
Sides that can go with garlic butter steak and potatoes skillet:
Although this dish will make you full adding these sides can be perfect for big gatherings. 
Roasted brussels sprouts
Simple tossed salad in which you can add whatever you want
Parmesan green beans
It could be anything that your kids like or your partner to give them a special surprise.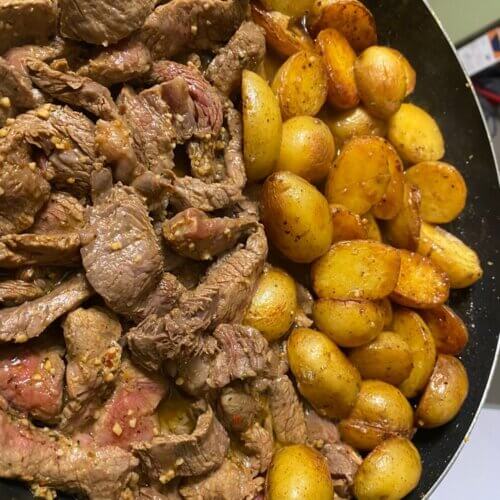 Ingredients
2 to 4

petite steaks

Salt and pepper that you can add to your taste

1

tbsp

olive oil

2 to 4

russet potatoes or 4 to 6 baby potatoes

6

tbsp

of unsalted butter that should be soft

Each tbsp for the steak and 2 for cooking potatoes

1

tbsp

of Italian herbs

1

tbsp

of fresh thyme

1

tbsp

of fresh parsley
Instructions
Let the oven preheat at 400 degrees.

Season your steaks with garlic, salt, and pepper on both sides.

In a bowl mix garlic, butter, and herbs.

Place a skillet on the stove and add the olive oil.

Place each steak in it for 2 to 3 minutes and set them aside on a plate.

Add the potatoes now and sauté them with a little seasoning of salt, pepper, garlic powder.

Add the steaks now by placing them on one side and potatoes on the other.

Now place the skillet in the oven and cook for 15 to 20 minutes or more depending upon how you like your steak.

Now add the butter mixture you made on the hot steaks and potatoes and let it stay on them for a while. Now add the fresh cut parsley and thyme to it.