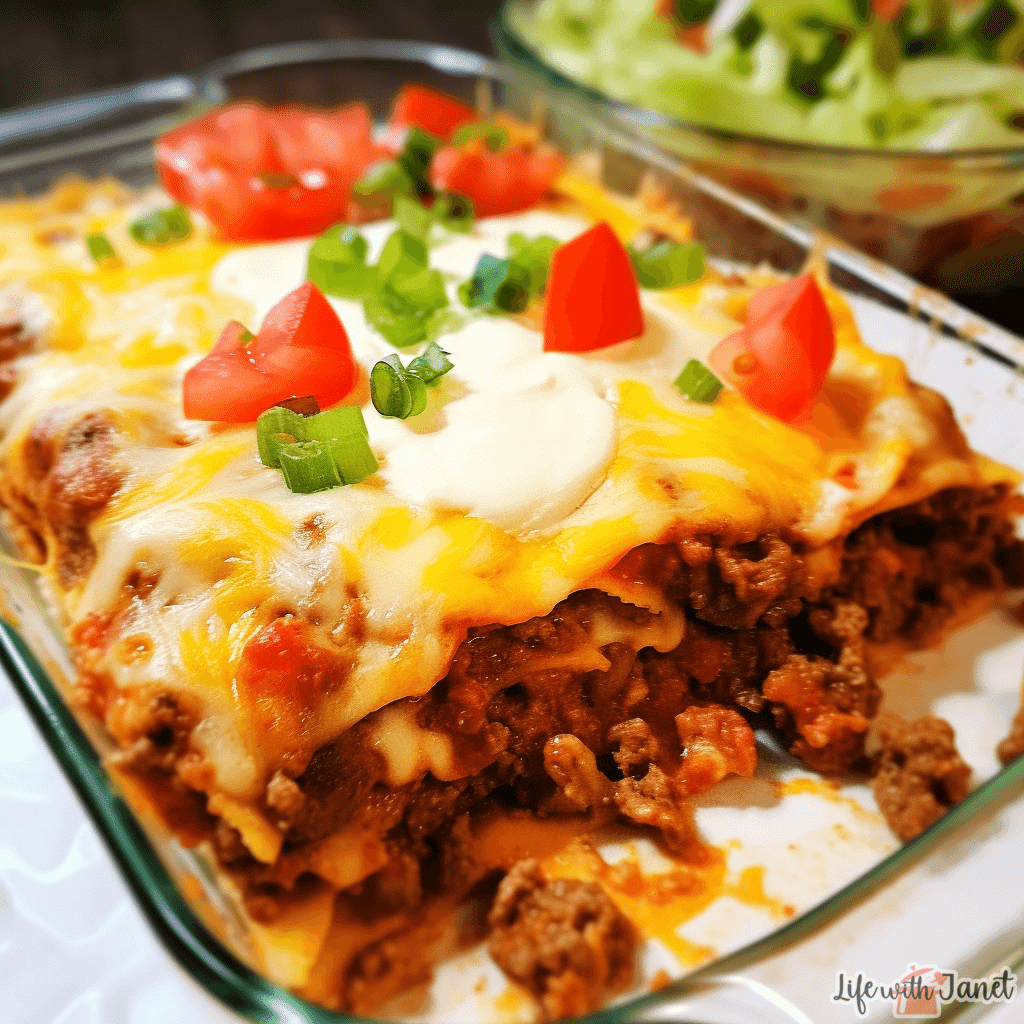 What Fresh Ingredients Can Elevate My Taco Lasagna?
Fresh ingredients can take your Taco Lasagna from good to great, enhancing its flavor and nutritional value. Fresh produce like tomatoes, lettuce, and avocados can be used as garnish, adding extra layers of taste and texture to your meal.
Fresh Produce Table
| Ingredient | Role in Recipe |
| --- | --- |
| Tomatoes | Garnish |
| Avocado | Served on the side or as garnish |
| Lettuce | Garnish |
| Jalapeños | For extra spice |
If you're a food blog aficionado or just a reader favorite Mexican cuisine enthusiast, consider replacing canned or dried garlic and onions with fresh ones. Fresh herbs like cilantro can also make a big difference.
In terms of proteins, using high-quality, freshly ground beef instead of frozen can significantly elevate your dish. The same goes for cheeses; opt for a Mexican cheese blend that you grate yourself rather than pre-shredded options.
Fresh olive oil can also contribute to a more authentic and vibrant flavor profile. Choose extra virgin olive oil for sautéing your onions and garlic to infuse the oil's aroma into your dish.
By making these adjustments, you're not only improving the quality of your meal but also enriching your food culture experience.
How Can I Incorporate Meal Planning and Meal Prep into Making Taco Lasagna?
Creating Taco Lasagna can be a seamless experience with a little meal planning and meal prep. Not only is this cost-effective, but it also ensures you're organized, saving you time and stress.
Meal Planning Checklist
Ingredient List: Make sure you have all the necessary ingredients. This is the time to choose between options like corn and flour tortillas, different beans, and decide on your Mexican cheese blend.
Timeline: Plan when to cook the meat, when to layer your lasagna, and when to bake it. This is especially helpful if you're entertaining guests or cooking multiple dishes.
Batch Cooking: Consider making a double batch if you want to freeze one for later, which is a smart way to meal prep.
Side Dishes: Plan what to serve along with the Taco Lasagna. Choices like Mexican Beans and Rice can be prepared ahead of time.
By having a clear plan, you can even turn the cooking process into a family activity, enriching your food culture and cooking skills.
Meal prep includes chopping your fresh ingredients in advance and storing them in airtight containers, measuring spices for your homemade taco seasoning, and even cooking your beef and bean mixture beforehand. Use food storage solutions like airtight containers or Ziploc bags to keep your prepped items fresh.
Through meticulous meal planning and prep, you can transform the process of making Taco Lasagna into a well-organized and enjoyable experience.
What Are the Essential Cooking Skills Needed for Perfecting Taco Lasagna?
Making a successful Taco Lasagna involves a range of cooking skills, from sautéing to layering ingredients. If you're new to the kitchen or want to refine your culinary techniques, this is a great dish to start with.
Essential Cooking Skills
Sautéing: Mastering the art of sautéing is crucial for cooking the onions and garlic to perfection. This involves using the right amount of olive oil and maintaining an appropriate heat level.
Seasoning: Learning to season with the correct amount and types of spices is vital. Whether you're using a pre-made taco seasoning or making your own, the seasoning sets the flavor tone of the entire dish.
Layering: Correctly layering the ingredients ensures an even distribution of flavors. The beans, cheese, and meat should be spread evenly to get the perfect bite every time.
Tips for Skillful Cooking
Always read cooking instructions thoroughly before starting.
Get your mise en place ready; that means having all your ingredients prepared and within arm's reach.
These skills are not only useful for this particular recipe but are also fundamental cooking skills that can elevate your food presentation and enhance your overall food culture knowledge.
For beginners, this dish is a practical and enjoyable way to practice and hone these skills. If you're a food blog writer or follower, documenting these skills with pictures or videos can make for engaging and educational content.
How Can I Properly Store Taco Lasagna for Future Meals?
One of the biggest advantages of Taco Lasagna is its food storage flexibility. This dish can easily be stored and reheated, making it an ideal option for meal planning and meal prep.
Storage Guidelines
Refrigerating: Store the cooked lasagna in an airtight container for 2-3 days in the fridge.
Freezing: If you've made a double batch or have leftovers, Taco Lasagna freezes well. Wrap it in aluminum foil and place it in an airtight container or Ziploc bag.
Reheating Tips
Microwave: Cover the serving size you intend to eat with a microwave-safe lid or wrap, then heat on medium power until warmed through.
Oven: Preheat the oven to 350°F (175°C) and bake until the cheese is melted and the lasagna is heated through, approximately 25-30 minutes.
Remember, if you're storing a garnish like avocado separately to maintain its freshness. Avocado can brown quickly and lose its texture, so it's best consumed fresh or stored properly with a squeeze of lime juice to prevent oxidation.
Storing Taco Lasagna properly is not only cost-effective but also makes for a quick and convenient meal option, be it for busy weeknights or unexpected guests.
What Are the Best Ways to Present Taco Lasagna to Make it Appealing?
Presentation is key when it comes to food, and Taco Lasagna is no exception. A few simple touches can make your dish look as fantastic as it tastes, increasing its appeal tremendously.
Presentation Tips
Serving Dish: Choose a colorful or decorative serving dish that complements the vibrant Mexican flavors of the lasagna.
Garnish: A sprig of cilantro, a dollop of sour cream, or a slice of lime can make your Taco Lasagna visually appealing. Fresh avocado slices also make a delicious and aesthetically pleasing garnish.
Ideal Serving Size
Adults: Approximately 1/6 to 1/8 of the lasagna
Kids: Roughly 1/12 of the lasagna
Consider creating a 'Taco Lasagna Bar' where everyone can customize their own serving with toppings like chopped tomatoes, jalapeños, and different types of cheese from a Mexican cheese blend.
Whether you're blogging about your culinary journey or just sharing a meal with loved ones, proper food presentation can make the experience memorable and share-worthy.
How Can I Customize Taco Lasagna to Suit Different Dietary Preferences?
Taco Lasagna is a versatile dish that allows for easy customization, making it suitable for various dietary needs and preferences. Whether you're meal planning for a diverse group or trying to satisfy different palates at home, here are some tips.
Alternative Ingredients
Protein: If you're catering to vegetarians, you can substitute the ground beef with a plant-based meat alternative or extra beans.
Cheese: For a dairy-free version, there are vegan cheese blends available that can replicate the gooey, melty texture of a traditional Mexican cheese blend.
Spice Level Adjustments
Mild: If you or your guests prefer less heat, opt for a mild salsa and omit the jalapeños or green chiles.
Spicy: For those who like it hot, consider adding some red pepper flakes or a spicier salsa.
Customizing Serving Size and Meal Prep
| Dietary Preference | Customization Options | Serving Size |
| --- | --- | --- |
| Vegetarian | Plant-based meat, extra beans | 1/8 lasagna |
| Dairy-Free | Vegan cheese blend | 1/8 lasagna |
| Spicy-Lover | Hot salsa, red pepper flakes | 1/6 lasagna |
| Mild Preference | Mild salsa, no jalapeños | 1/6 lasagna |
Customizing Taco Lasagna is not just practical for meal prep but also adds an exciting layer of interaction if you're sharing your culinary adventures on a food blog. Discussing customization options engages your reader base and invites people to share their own takes on your recipes.
From a food culture perspective, the flexibility in ingredients showcases the dish's adaptability to various culinary traditions and preferences, making it a reader favorite and a one-pan wonder for the cook.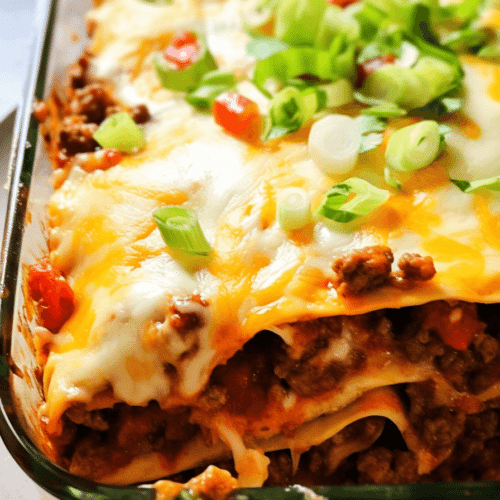 Easy Taco Lasagna
Dive into the robust flavors of this Taco Lasagna, a Mexican-inspired main dish that effortlessly marries the warmth of tacos with the layered comfort of lasagna. Tortillas layered with zesty meat, salsa, and a delightful cheese blend make this dish a guaranteed hit.
Print
Pin
Rate
Ingredients
1

lb

lean ground beef

1

Tbsp

olive oil

1

medium-sized red onion

finely chopped

2

cloves

garlic

minced

¼

cup

premium taco seasoning

12

six-inch flour tortillas

24

oz

quality salsa

1

cup

sour cream

3

cups

shredded Mexican Cheese Blend

½

cup

water

adjust as needed

1

can of optional green chiles

1

can black beans

drained
Instructions
Begin by preheating your oven to 375°F (190°C). Lightly grease a standard 9×13-inch baking dish.

Using a spacious skillet, brown the ground beef over medium-high heat. Once done, drain and set aside.

In the same skillet, sauté onions in olive oil until translucent. Introduce minced garlic, cooking for another minute.

Return the browned beef to the skillet, blending in taco seasoning, green chiles, and beans. Add water and let the mixture simmer. If it appears thick, sprinkle an additional 1-2 Tbsp of water.

Assemble the lasagna by starting with a layer of tortillas. Over this, spread a portion of salsa, followed by half of the beef mixture. Evenly dollop half of the sour cream, spreading it gently. Sprinkle with cheese. Repeat the layering process. Finish with a final layer of tortillas, the remaining salsa, and a generous amount of cheese.

Bake until the cheese bubbles and turns a golden hue, typically between 30-40 minutes.
Nutrition