Jalapeno Popper Chicken Casserole has become a popular choice for many because of its keto-friendly and low-carb properties. But what exactly contributes to these attributes?
Main Ingredients: The primary ingredients, such as chicken breast, cream cheese, and jalapeno peppers, are inherently low in carbohydrates. Moreover, chicken is a high-quality protein source that's keto-approved.
No Grain or Starches: Unlike other casseroles like the Doritos Chicken Casserole or the Hash Brown Chicken Casserole, this recipe does not rely on grains or starches, which are typically high in carbs.
Healthy Fats: The addition of cream cheese and bacon introduces healthy fats, which are a significant energy source on the keto diet.
Substitution Options: For those keen on maintaining a stricter keto regime, there's flexibility to replace certain ingredients. For instance, a side of cauliflower rice can be an excellent low-carb replacement for traditional rice.
Nutritional Breakdown: The approximate nutritional breakdown per serving is as follows:NutrientAmountCarbohydrates5gProtein25gFat15gFiber1g
Comparative Analysis: In contrast to casseroles like the Easy Creamy Chicken Casserole, this one avoids ingredients that might spike blood sugar levels, making it a more keto-compatible option.
How can the spice level of the Jalapeno Popper Chicken Casserole be adjusted?
The versatility of the Jalapeno Popper Chicken Casserole lies not just in its flavor, but also in its adaptability to different spice thresholds.
Understanding Jalapenos: Jalapenos are moderately spicy chili peppers. Their heat comes primarily from the seeds and the ribs inside the pepper.
Customizing Heat: To make the dish kid-friendly or suitable for those with a low spice tolerance, all seeds and ribs can be removed from the jalapeños, rendering them mild. For those who like a little kick, leaving in some seeds and ribs can add a hint of spice.
Spice Scale:Heat LevelPreparation MethodMildRemove all seeds and ribsMediumRemove half of the seeds and ribsSpicyRetain all seeds and ribs
Alternative Peppers: If jalapenos are still too spicy or not spicy enough for your liking, consider using other chili peppers. Poblanos or bell peppers for a milder flavor, or habaneros for an intense kick.
Taste Test: It's always a good practice to taste a small piece of the jalapeno before adding it to your dish. This way, you can gauge its heat and adjust accordingly.
Pairing with Dairy: Dairy, like the cream cheese in this recipe, can help counteract and balance the heat from the peppers, making the dish creamy and mildly spicy.
What are the best serving suggestions for the Jalapeno Popper Chicken Casserole?
Serving the Jalapeno Popper Chicken Casserole can be both an art and a science, ensuring that the main dish's flavors are complemented and elevated by its accompaniments.
Traditional Serving Options: For those not following a strict diet, traditional sides such as rice, buttermilk corn bread, or garlic bread pair well. A particular favorite is ranch smashed potatoes.
Low Carb Sides: For those on a keto or low-carb diet, cauliflower rice or sautéed spinach can be excellent alternatives. Roasted vegetables, specifically Mexican roasted veggies, are also a delightful pairing.
Combining Sides: A combination of a vegetable side and a traditional starchy side can make for a balanced meal. For example, serving the casserole with a side salad and buttermilk corn bread offers both freshness and heartiness.
Serving Size: Typically, a serving size is about 4 oz of chicken. However, this can vary based on the chicken breast's size and the accompaniments served with it.
Serving Temperature: The casserole should be served hot. To retain its warmth, consider using pre-warmed plates or serving it directly from the oven.
Drink Pairings: Considering the casserole's creaminess and potential spiciness, light and refreshing beverages like iced tea, lemonade, or white wines can be great accompaniments.
Can this casserole be prepared in advance and frozen for later use?
Meal prepping is a boon for busy households, and understanding how to store and reheat the Jalapeno Popper Chicken Casserole can make life much easier.
Freezer Meal Preparation: Season the chicken as directed, layer it with the cream cheese, jalapeno peppers, and top with cheese. Once assembled, it's ready to be frozen.
Storing: The prepared casserole can be stored in the freezer for up to 6 months. Ensure it's covered with foil or in an airtight container to prevent freezer burn.
Thawing: Before baking, thaw the casserole in the refrigerator for 24-48 hours. It's essential to ensure it's thoroughly thawed to achieve even baking.
Baking from Frozen: If short on time, bake the casserole directly from the freezer. Extend the cooking time by about 15-20 minutes, but always check for doneness by ensuring the internal temperature reaches 165°F.
Reheating Leftovers: If you've already cooked the casserole and have leftovers, store them in the refrigerator for up to 3 days. Reheat them in a preheated oven at 350°F until warmed through.
Quality Check: Before consuming, always ensure that there's no unpleasant smell or discoloration, which are indicators of spoilage.
How can I use the leftovers from the Jalapeno Popper Chicken Casserole creatively?
Revamping the leftovers can make for exciting and delightful new dishes.
Stuffed Peppers: Hollow out bell peppers and fill them with the leftover casserole. Top with some more cheese and bake until the peppers are tender.
Quesadillas: Spread a layer of the casserole mixture between two tortillas, add some extra cheese, and grill until crispy. Serve with salsa and sour cream.
Tacos or Burritos: Use the casserole as a filling for tacos or burritos. Add some lettuce, tomato, and salsa for freshness.
Rice Bowl: Layer a bowl with rice (or cauliflower rice for a low-carb option), add the casserole leftovers, and top with some fresh herbs, sour cream, and avocado slices.
Pasta: Mix the casserole leftovers with cooked pasta and some store-bought alfredo or marinara sauce. Top with parmesan and enjoy a creamy, spicy pasta dish.
Chicken Salad: Shred the chicken from the casserole and mix with some mayonnaise, celery, and red onions. Serve on lettuce wraps or as a sandwich filling.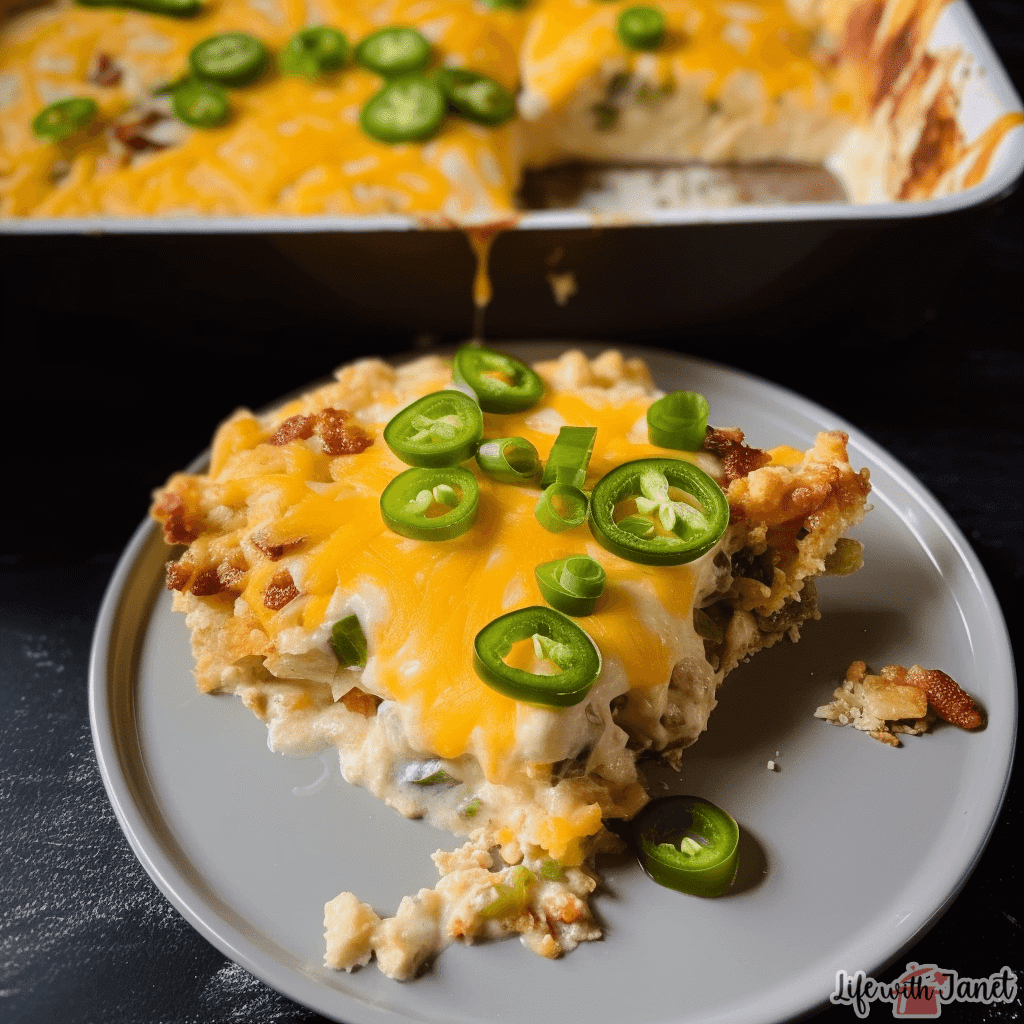 How does Jalapeno Popper Chicken Casserole differ from other chicken casseroles?
Differentiating between casseroles can sometimes be a challenge given the vast variety. Here's a deep dive into what sets the Jalapeno Popper Chicken Casserole apart:
Flavor Profile: The Jalapeno Popper Chicken Casserole is unique in its spicy kick, which comes from the jalapenos. This spicy element isn't as dominant in other casseroles, such as the Doritos Chicken Casserole, which is more savory and cheesy.
Texture: While most casseroles are creamy and rich, the Jalapeno Popper Chicken Casserole also brings in a slight crunch from the jalapenos and the potential addition of bacon or breadcrumbs.
Dietary Considerations: As previously highlighted, this casserole is keto-friendly and low-carb, which can't be said for all chicken casseroles. For instance, Hash Brown Chicken Casserole incorporates hash browns, which are high in carbohydrates.
Main Components: Many chicken casseroles, such as the Easy Creamy Chicken Casserole, may not incorporate a significant amount of veggies. In contrast, the Jalapeno Popper Chicken Casserole gives prominence to jalapenos, making it not just a protein dish but also a vegetable-forward one.
Cooking Technique: While most casseroles require a bake-only method, the Jalapeno Popper Chicken Casserole can sometimes involve additional steps, like grilling the jalapenos beforehand for added flavor or frying the chicken briefly for a seared taste.
Adaptability: This casserole's spice levels can be easily adjusted, making it versatile for different taste profiles. Whether you prefer it blazing hot or mildly spicy, it's easy to achieve the desired heat level with this dish compared to others.
Thus, while it may seem that chicken casseroles are all cut from the same cloth, the Jalapeno Popper Chicken Casserole stands out in its flavors, textures, and unique qualities.
What can I substitute for jalapenos in Jalapeno Popper Chicken Casserole?
Understanding ingredient substitutions is essential, especially when trying to accommodate dietary restrictions, spice tolerances, or just working with what's in your pantry. If jalapenos aren't your thing or you just don't have them on hand, don't fret! Here's a list of potential substitutes and how they can modify your Jalapeno Popper Chicken Casserole:
Bell Peppers: If you're looking to reduce the heat, bell peppers are an excellent choice. They provide a similar texture without the kick. Choose from green, red, yellow, or orange to vary the flavor slightly.
Anaheim Peppers: Slightly bigger than jalapenos, these peppers have a milder heat. They can be an excellent middle-ground for those who like a touch of spice without going overboard.
Poblano Peppers: These are milder than jalapenos and can be charred before adding them to the casserole, enhancing the overall flavor of the dish.
Serrano Peppers: If you're looking to turn up the heat, Serrano peppers are a good bet. They're spicier than jalapenos, so use them sparingly unless you're ready for the extra kick.
Red Pepper Flakes or Hot Sauce: In the absence of fresh peppers, a pinch of red pepper flakes or a dash of hot sauce can infuse the casserole with some heat. Be careful with the quantity, as it can quickly become too spicy for some palates.
Mild Chilies in Adobo Sauce: These provide a smoky flavor along with the heat. They can be a unique twist to the traditional Jalapeno Popper Chicken Casserole.
When substituting, remember to adjust quantities based on the pepper's size and heat level. For example, if using a milder pepper like Anaheim or bell pepper, you might want to use more than the recipe's jalapeno quantity. On the other hand, with spicier peppers like Serrano, use them sparingly.
Always consider the preferences of those you're serving. Some might love the fiery heat of a spicier substitute, while others might appreciate a milder take on the casserole. After all, it's all about balancing flavors and ensuring everyone enjoys the meal!
Jalapeno Popper Chicken Casserole
Immerse yourself in a burst of cream cheese and the zing of jalapeños with this irresistible Jalapeño Chicken Casserole. Not only does it boast rich flavors that'll have you coming back for seconds, but it's also a quick, hassle-free meal perfect for those tight-schedule days. For those on a health journey, you'll be pleased to know it aligns with gluten-free, low-carb, and keto-friendly lifestyles.
Print
Pin
Rate
Ingredients
2

lbs

skinless

boneless chicken breast (approx. 3-4 breasts)

A pinch of garlic powder for seasoning

8

oz

cream cheese

soft to touch

5-6

fresh jalapeño peppers

approx. 1/2 pound

4

oz

grated sharp cheddar cheese

Crumbled crispy bacon – about 1/2 cup
Instructions
Warm up your oven to 375˚F.

Arrange the chicken breasts uniformly in a casserole dish. Season with garlic powder, followed by a generous layer of cream cheese.

Prep the jalapeños: give them a wash, chop off the tops, and decide on the heat – deseed for a milder experience or retain some seeds for that extra kick. Slice them into strips and place atop the cream cheese.

Next, a layer of cheddar cheese to blanket the peppers.

Bake in the preheated oven for 40-45 minutes. When there's about 5 minutes left, pull out, sprinkle the bacon, and return to finish up. It's perfectly done when the chicken hits an internal temp of 165˚F.

Dish it out while it's warm. Perfect with sides like potatoes or assorted veggies. Dive in and savor!
Notes
Consider using chicken chunks or tenderloins as an easier-to-serve alternative. This might alter the cooking time a bit.
Got leftovers? Keep them fresh in an airtight container. They're fridge-friendly for up to 4 days and can be frozen for a month.
Nutrition