Chicken Spaghetti Casserole, a dish that has won the hearts of many. From choosing the right chicken to understanding the different cheese variations and storage tips, this guide answers all your burning questions.
What is Chicken Spaghetti Casserole and why is it popular?
Chicken Spaghetti Casserole is a classic dish that fuses pasta, chicken, vegetables, and a rich creamy sauce. Its popularity can be attributed to the fact that it's a comfort food, striking the perfect balance between familiar and delightful. It is also versatile and can be adjusted based on personal taste preferences. The casserole is often chosen for family suppers, potlucks, or as a thoughtful meal for someone in need. Another factor boosting its fame is its convenience. With the option to use a variety of chicken types, from rotisserie to canned, it's a dish that can be whipped up using whatever's on hand. If you're interested in a spicy take on this dish, this version of a spicy southern cheesy chicken spaghetti casserole is worth a try.
Chicken choice can make or break the casserole. Thankfully, this dish offers flexibility. Boiled and pulled chicken is a common option. For this, you'd need about 1 ¾ lbs. of boneless, skinless chicken breasts or thighs. After boiling, simply chop or shred for the dish. Rotisserie chicken is another popular and time-saving choice. Just shred the meat from a store-bought chicken and you're good to go! Leftover chicken from previous meals can also be utilized, ensuring no waste. Interestingly, even canned chicken can find its place in this casserole. If you're looking for a rich flavor profile, consider this recipe which infuses the dish with a million-dollar taste.
How can you modify the cheese content and type in Chicken Spaghetti Casserole?
The cheese in Chicken Spaghetti Casserole is essential for achieving that creamy texture. The original recipe calls for a blend of cheddar and Velveeta. Cheddar offers that sharp tang while Velveeta ensures a creamy melt. For those not keen on Velveeta, more cheddar can be used. Alternatively, cheeses like Monterey Jack, Pepper Jack, Colby, Mozzarella, and Gruyere are also great choices. If you're in the mood for experimentation, consider integrating cream cheese or pimento cheese. Another twist is garnishing with Parmesan, adding a unique flavor layer.
How can you prepare Chicken Spaghetti Casserole ahead of time and store it?
Time efficiency is crucial in today's fast-paced world. This casserole is an ultimate prep-ahead meal. Once assembled, it can be refrigerated for up to 2 days before baking. If you're planning to freeze it, ensure it's wrapped tightly in plastic wrap, followed by foil, and it can be stored for up to 3 months. For best results, thaw overnight in the refrigerator and let it sit at room temperature for about 30 minutes before baking. For leftover baked casserole, store it in an airtight container in the refrigerator and it remains good for 3-4 days.
What are some variations to the traditional Chicken Spaghetti Casserole recipe?
Variety is the spice of life! Some variations to the conventional recipe include using whole wheat spaghetti noodles for a healthier twist or adding a buttery Ritz cracker crumb topping for extra crunch. Switching the type of cheese can also drastically alter the taste profile. Swapping the cream of mushroom soup with other condensed soups like cream of chicken or celery adds another layer of flavor. If you like some heat, a sprinkle of cayenne pepper or red pepper flakes can elevate the dish. Another subtle variation involves the type of bell pepper used or replacing pimentos with Ro*Tel diced tomatoes for a spicier kick.
Are there any tricks to ensure the best texture and flavor for Chicken Spaghetti Casserole?
The appeal of Chicken Spaghetti Casserole lies in its perfect balance of textures and flavors. Achieving this harmony requires a few handy tricks:
Pasta Perfection: It's crucial to avoid overcooking your spaghetti. Remember, the pasta will undergo additional cooking in the oven. Opt for al dente – firm to the bite. This ensures your casserole isn't mushy after baking.
Consistent Chicken Shreds: Shred your chicken uniformly. This ensures every bite is filled with the rich flavor of chicken and prevents large, overwhelming chunks.
Cheese Layering: While mixing cheese in the casserole is a given, adding an extra layer on top before baking can give you a delightful crusty top, adding a different texture to the creamy inside.
Balanced Seasoning: Season your chicken while boiling, preferably with some salt, pepper, and even a bay leaf or two. This ensures the chicken is flavorful and doesn't rely solely on the casserole sauce for taste.
Veggie Crunch: Sautéing vegetables like bell peppers and onions just until they're translucent retains some of their crunch. This introduces a contrast in the otherwise creamy casserole.
Rest Before Serving: Once out of the oven, let your casserole sit for about 10 minutes. This allows the flavors to meld and the sauce to thicken a tad more, ensuring every serving is perfectly scoopable.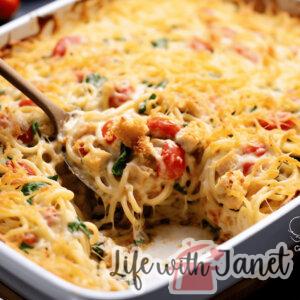 Chicken Spaghetti Casserole Recipe
Indulge in the heartwarming Chicken Spaghetti Casserole, a perfect blend of cheese and savory flavors. It's the quintessential American dinner dish!
Print
Pin
Rate
Ingredients
Spaghetti

16 ounces, snapped into smaller sections

Chicken

cooked and either diced or shredded (4 cups)

Green bell pepper

finely chopped (½ cup)

Fresh celery

finely chopped (½ cup)

Fresh onion

finely chopped (½ cup)

Diced pimentos

from a 4 oz jar or Rotel diced tomatoes with green chilies (from a 10 oz can) – ensure they're well-drained

Cream of mushroom soup

two 10.5 oz cans, undiluted

Chicken broth

2 cups

Grated cheddar cheese

1 ½ cups, portioned

Velveeta cheese

finely diced or grated (1 cup)

Salt and pepper for seasoning
Instructions
Begin by setting your oven to 350°F. Grease a 9 x 13-inch baking dish.

Boil the spaghetti in a pot filled with salted water. Follow the package's instructions for al dente texture. Drain and keep aside.

In the pot, combine chicken, vegetables, pimentos or Rotel, soup, broth, half of the cheddar, and Velveeta. Mix thoroughly. Adjust seasoning with salt and pepper.

Empty the pot's contents into the baking dish. Top off with the remaining cheddar.

Uncovered, bake for about 45 minutes. The top should be bubbly with the cheese perfectly melted.

Serve hot!
Notes
Opt for whole wheat spaghetti for a healthier twist.
Craving a crunchy top? Use a Ritz cracker mix: combine one sleeve of crushed Ritz crackers (about 1½ cups) with 4 tablespoons of melted butter. Spread this mix over the casserole pre-bake.
Cheese swap: Feel free to experiment with Monterey Jack, Pepper Jack, or even Mozzarella.
Soup variants: Try the cream of chicken or cream of celery soups.
Aim for perfectly al dente spaghetti to avoid overcooked pasta post-baking.
For quick preparation, use rotisserie chicken. Alternatively, boil chicken parts of your choice and shred them.
A sprinkle of fresh parsley enhances the dish's presentation.
Nutrition