SHEET PAN GARLIC ROASTED BRUSSELS SPROUTS
I was never really a fan of Brussels Sprouts and I certainly never thought that I would be sharing a recipe for making them.
However, when I saw how easy it would be to make them using a sheet pan, I thought that it was time to give it a try.
You probably already know that Brussels Sprouts are a cabbage.
What you may not know is that they are loaded with Vitamin C. They are also loaded with Vitamin K, which is needed for blood clotting.
I was never a huge fan of this veggie until recently.
This was never a vegetable that we enjoyed when I was growing up. I can think of no meal served in my house that had Brussels sprouts in it. So, of course, I had no reason to be a fan of the vegetable.
Then I met these ladies in my yoga class who would go on and on about this veggie.
These women in my yoga class would always be sharing their stories and recipes about the delicious Brussels Sprouts that they made for dinner the night before. I would sit there, not unlike an eight year old, going "Yuck" "gross" after every recipe discussion.
SHEET PAN BAKING HAS BECOME VERY POPULAR
Placing a bunch of food on a pan and placing that pan into the oven is a simple task it would seem. What is important is remembering to line that pan to prevent sticking. I am a fan of foil, parchment paper, or silicon mats- depending on what I am making and the temperature that I am using.
When you use a sheet pan you can put more than just one item in the oven.
We can easily make a sheet pan meal. It is as simple as placing what you want to bake on the pan and placing that pan into the oven. It is so easy that it is no wonder why people are doing it.
THE RECIPE FOR SHEET PAN GARLIC ROASTED BRUSSELS SPROUTS
This is a really simple recipe that is also really good!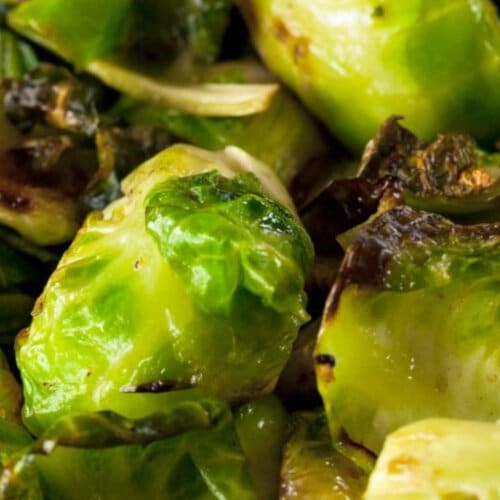 Ingredients
Salt- 1 teaspoon

Brussels Sprouts 1 1/2 pounds fresh if possible

Garlic- 3 cloves chopped small or minced

Olive Oil- I use extra virgin- 2 tablespoons
Instructions
Prep your Brussels Sprouts by cutting off the ends (brown area) and any discolored leaves.

Place them into a large bowl.

Add your remaining ingredients to the bowl and toss the Brussels Sprouts in them assuring that they are evenly covered.

Spread the covered Brussels Sprouts flat in a pan- I usually will spread foil or prep the pan prior to adding the sprouts. Bake for 45-50 minutes, stirring occasionally, until somewhat crispy.