When making Pecan Pie Bars, the type of pecans you choose can greatly influence the outcome. While most recipes are flexible about the kind of pecans you use, understanding the nuances can enhance the flavor and texture of your bars.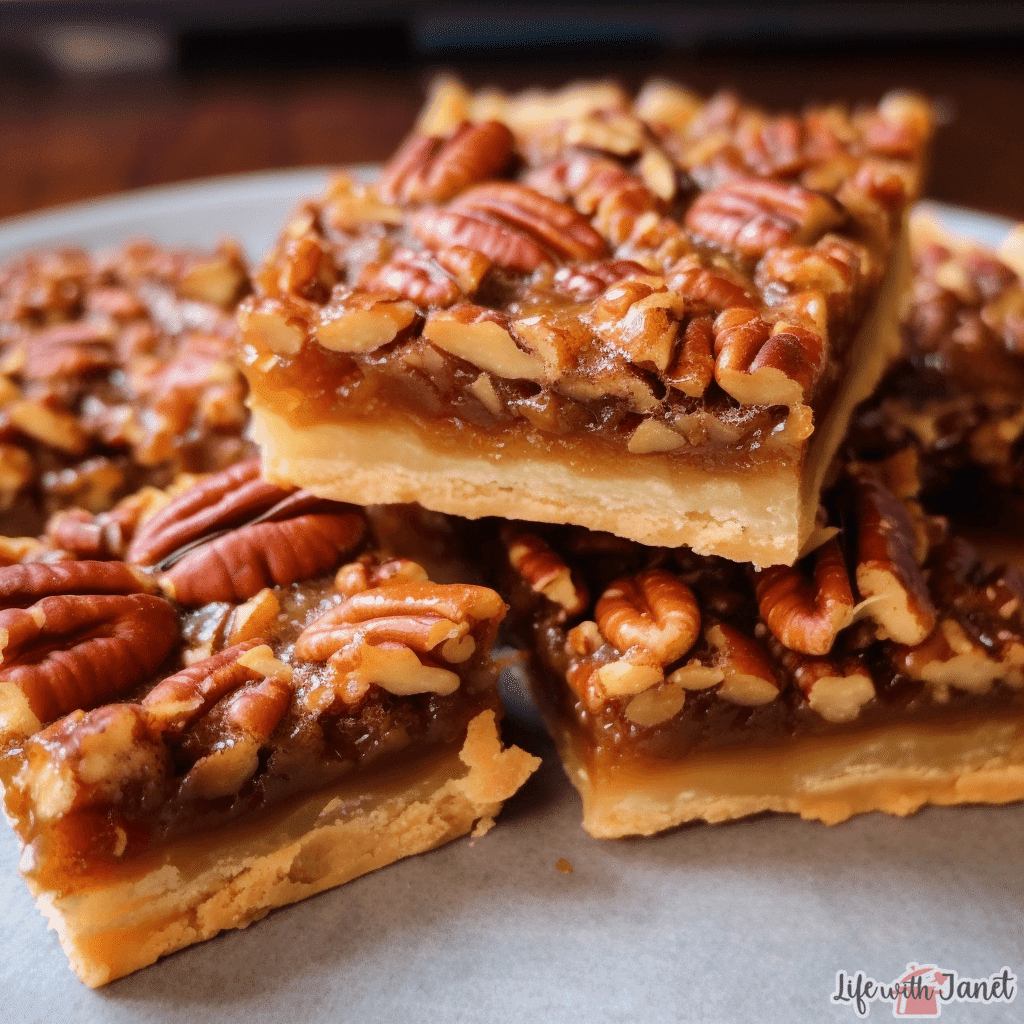 Types of Pecans: There are various types of pecans available in the market, ranging from Stuart, Desirable, to Cape Fear. However, for baking, any fresh pecan type should suffice.
Whole vs. Chopped: The recipe provided above suggests using coarsely chopped pecans. Chopping exposes more of the pecan's surface, allowing it to absorb and combine with the caramel filling better. However, if you prefer a chunkier texture, pecan halves can be used.
Buying Tips: Ensure the pecans are fresh and have no moldy or rancid smell. For convenience, pre-chopped pecans can save preparation time. As per the information shared, it's more economical to choose whichever is priced lower. For more pecan buying tips, you might want to visit how to make delicious pecan pie cookies.
Storing Pecans: If you buy pecans in bulk, store them in the refrigerator to prolong their freshness. They contain oils that can become rancid at room temperature over extended periods.
Alternative Nuts: For those with pecan allergies or if you simply run out of them, the recipe suggests using walnuts or cashews as they have a similar crunchy texture.
Preparation: Before adding to the mix, always toast the pecans lightly. This amplifies their nutty flavor, making your Pecan Pie Bars even more delicious.
Do I need to refrigerate the Pecan Pie Bars after baking?
Storing your Pecan Pie Bars correctly can make a significant difference in their taste and texture, especially if you're planning to serve them at a later time or date.
Refrigeration Not Mandatory: As per the shared recipe, Pecan Pie Bars don't contain highly perishable ingredients, so refrigeration isn't compulsory. They can be stored in an airtight container at room temperature for several days.
Consider the Climate: If you live in a humid or exceptionally warm environment, it might be wise to refrigerate them to ensure they remain fresh and don't become too sticky.
Shelf Life: At room temperature in an airtight container, the bars should remain fresh for 3-4 days. However, if you've refrigerated them, you can expect them to last a week.
Serving After Refrigeration: If you do choose to refrigerate, allow the bars to come to room temperature before serving. This will ensure they have the best texture and flavor.
Comparison with Other Pecan Desserts: Compared to some other pecan recipes, like the paleo pecan pie, the Pecan Pie Bars are more forgiving in terms of storage.
Freezing for Long-term Storage: If you want to store the bars for a longer period, they can be frozen. Ensure they are in a freezer-safe bag, and they can last for up to 3 months.
Can I use this recipe to make a traditional Pecan Pie instead of bars?
The allure of turning this bar recipe into a traditional pecan pie is tempting, especially for those who love the classic dish. Here's how you can go about it:
Quantity Adjustments: To fit the mixture into a traditional pie dish, it's recommended to cut the recipe in half. Alternatively, use the full recipe to fill two pie pans.
Crust Considerations: While the shortbread crust provided in the recipe is perfect for bars, you might want to use a more traditional pie crust for a classic pecan pie. Still, if you're adventurous, the shortbread crust can offer a unique twist.
Parchment Paper: When baking in a pie dish, it's still wise to line it with parchment paper. This makes serving slices and removal from the pan much more manageable.
Baking Time: Keep in mind that converting this to a pie might alter the baking time slightly. Regularly check the pie to ensure it doesn't overbake.
Texture and Flavor: The bars' filling is gooey, chewy, and crunchy, with a soft caramel filling. In pie form, expect a more consistent gooey texture, unless you adjust the amount of pecans.
Pie vs. Cobbler: If you're looking for a twist on the traditional pie, consider making a pecan pie cobbler. It provides a unique blend of pie and cobbler textures.
How can I ensure the shortbread crust is perfect every time?
Perfecting the shortbread crust is essential to get the desired base for your Pecan Pie Bars. Here are tips to ensure consistency:
Butter Temperature: Use cold, unsalted butter for the crust. Cold butter ensures a flaky and crumbly texture typical of shortbread.
Mixture Consistency: Whether using a food processor or a bowl and pastry cutter, ensure the butter cuts into the flour properly. The desired consistency is coarse meal with some pea-sized crumbs.
Pressing the Crust: When pressing the crumbs into the baking pan, ensure even distribution. This will ensure uniform baking and a consistent base for your bars.
Baking to Perfection: Bake the crust at 350˚F until it's set and lightly golden at the edges. Overbaking can result in a hard crust, while underbaking might make it too crumbly.
Parchment Lining: It's a pro tip to line your pan with parchment. This makes it easier to lift the bars out, ensuring the crust remains intact.
Comparison with Other Crusts: While this recipe recommends a shortbread crust, you can experiment with other crust types, like graham cracker or even an oat base, depending on personal preference.
Can I double the recipe for larger gatherings?
Serving Pecan Pie Bars for larger gatherings or parties often means requiring more than a single batch. Here's how to efficiently double the recipe: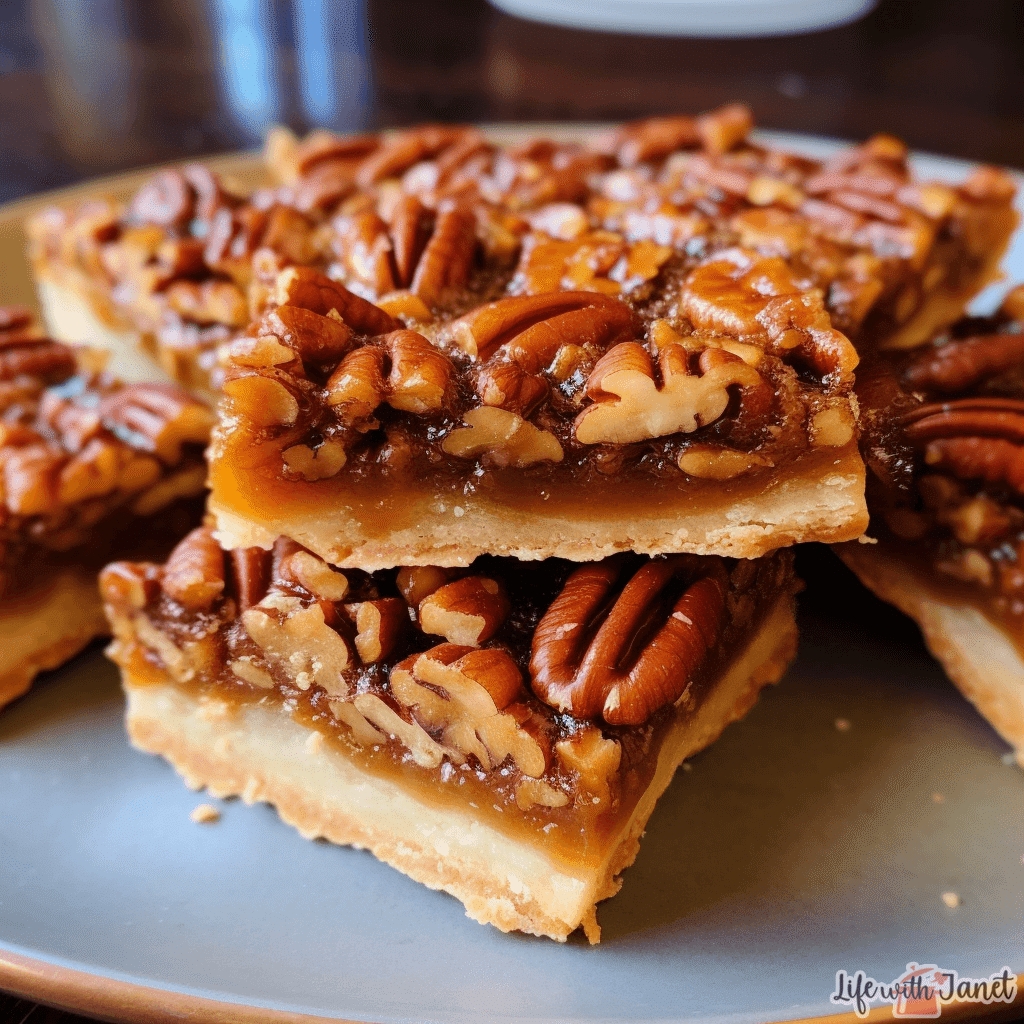 Doubling Ingredients: Ensure you have sufficient ingredients. This might seem obvious, but running out of a component midway can disrupt the flow.
Two Separate Pans: Once you've doubled the recipe, divide the mixture into two separate 9×13 casserole dishes.
Consistent Oven Temperature: When baking both pans side-by-side, monitor the oven temperature to ensure it remains consistent.
Adjusting Baking Time: Due to the additional volume in the oven, you might need to bake a few minutes longer. Use the toothpick test to check doneness.
Cutting the Bars: With more bars available, consider cutting them into smaller pieces to serve a larger number of guests.
Serving Tips: Double-check if you have enough serving plates, cutlery, and napkins for your guests. Set up a dessert table and allow guests to serve themselves for a more relaxed and fun atmosphere.
Pecan Pie Bars Recipe
Unveiling a delightful treat that perfectly blends the essence of pecans with the richness of homemade caramel: our Pecan Pie Bars. A wonderful addition to your festive spread, these bars boast a tender shortbread base, elevating your cookie celebrations to new heights!
Print
Pin
Rate
Ingredients
Shortbread Crust:
2

cups

of premium all-purpose flour

1/2

cup

powdered sugar for a hint of sweetness

1/4

tsp

fine sea salt for balance

12

Tbsp

chilled unsalted butter

finely diced
Luscious Pecan Filling:
3/4

cup

packed light brown sugar

enhancing depth

1/2

cup

aromatic honey

12

Tbsp

unsalted butter for creaminess

1/4

cup

indulgent heavy whipping cream

A pinch

1/4 tsp of fine sea salt

1

tsp

pure vanilla extract for an added flair

3 1/2

cups

coarsely chopped pecans

around 14 oz
Instructions
Crafting the Crust:
Begin by setting your oven to 350˚F. For ease, line a 9×13 baking pan using foil or parchment, ensuring an overhang for effortless removal. A quick spray with non-stick cooking spray preps it further.

Utilizing a food processor, blend together flour, powdered sugar, and salt. A few pulses should suffice. Introduce the cold butter, pulsing until you achieve a texture akin to coarse crumbs. Transition this mixture to your pan, pressing firmly to form an even base. Bake until the edges gain a golden hue, roughly 18-20 minutes. Once baked, let it rest while preparing the filling.
Perfecting the Pecan Pie Bar:
With a sizable saucepan, merge brown sugar, honey, butter, cream, and salt. Let the mixture reach boiling point, then simmer gently for two minutes. A sweet aroma will fill your kitchen.

Remove the concoction from heat, gracefully mixing in the vanilla and pecans till they're well enveloped in the caramel goodness.

Gently pour this lush filling over the warm crust. A return trip to the oven for about 20-25 minutes will see the filling bubble and adopt a caramelized shade.

Allow the baked delight to cool entirely, preferably on a wire rack.

Once cool, simply lift using the overhanging parchment and place on a cutting board. Slice into elegant 2-inch squares. Best savored at room temperature.
Nutrition