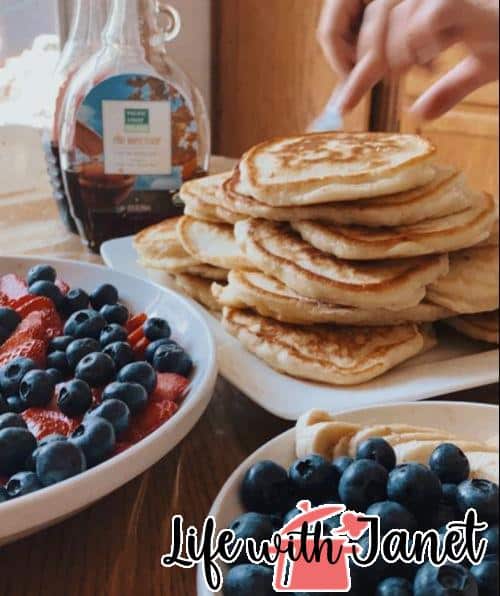 I am definitely a breakfast girl. I have to eat breakfast within 30 minutes of waking up, or else my stomach growls like crazy, and I'm extremely hungry. My usual breakfast is oatmeal and fruit, but on weekends (normally Sundays), we go all out.
Omelets, Eggs Benedict, French Toast, Pancakes, Quiche, Waffles.
We've had them all.
But out of everything, my favorite is pancakes. I have always loved pancakes. Even when I go out to breakfast at a restaurant, 90% of the time, I order pancakes. There is something about that stack of fluffy and sweet pancakes that get me going in the morning.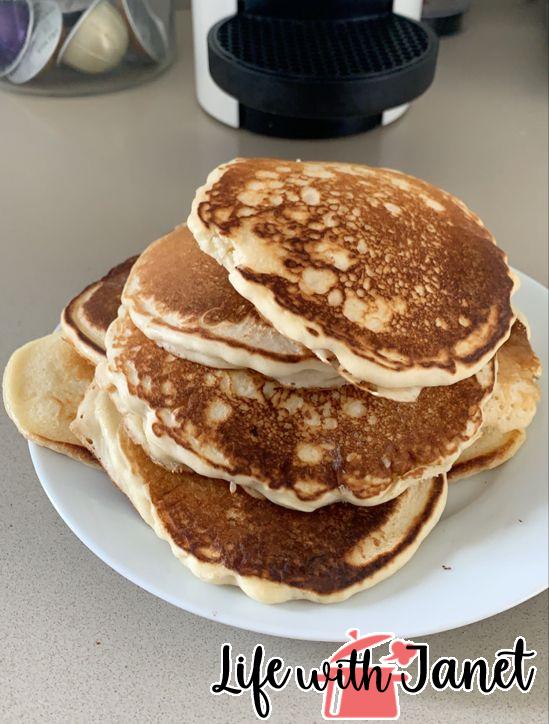 With this love for pancakes, I have tried many (I mean a lot, like a lot!) of pancake recipes. I've done buttermilk, normal, wheat… everything. And none have been right. They have been good, don't get me wrong. But not the one. Some have been too hard. Some have been too gooey. Some have had no flavor. None have been perfect.
BUT… I am here to tell you I found the one! They are the perfect pancake. Fluffy, moist, flavorful. All packed into one incredible pancake. These pancakes really just melt in your mouth. One bite, and you addicted. You can't just have one; you have to have the whole stack. And they are so good you don't even need butter. You know what – you don't even need syrup! Butter is normally added to pancakes to add a moist and richness to the pancakes, but these already have that. They don't need the butter at all. I normally just put on syrup, but I don't put a lot – just a little to complement the pancake. These pancakes stand good on their own!
Another great thing about this recipe is that it uses basic ingredients. No buttermilk needed – normal milk is fine. And I actually use non-fat milk, and they still come out amazing! And even better is that it is a great starting recipe to add extra yummy flavorings. My favorite is Banana. And Steve's is White Chocolate Chips. All you have to do is add the ingredient of your choice to the pancake after pouring it into the pan – just carefully top the pancake, and that's it. A yummy pancake catered to your taste :).
Go make these pancakes! You will be so happy!
Oh, and real quick… we made these for "breakfast for dinner," and wow! They might be even better at night. It might be being the key word… these are great no matter what time of day! Enjoy 🙂
Ingredients
1 ½ cups All-Purpose Flour

3 ½ tsp. Baking Powder

1 tsp. Salt

1 tbsp. Sugar

1 ¼ cups Milk

1 egg

3 tbsp. Unsalted Butter (Melted)

1 tsp. Pure Vanilla Extract
Instructions
In a large bowl, whisk together flour, baking powder, salt, and sugar. Add the milk, egg, and melted butter. Whisk until completely smooth. Mix in the vanilla.

On medium heat, lightly oil a skillet, griddle, or frying pan. Make sure the pan is fully heated before cooking the pancakes. Pour about ¼ cup of the batter on the pan in rounds.** I used a cupcake scooper to make them the same size. Bake until bubbles form in the batter, and then flip the pancake. Cook until lightly browned on both sizes. Continue with the remaining batter. Serve warm with syrup (or any other topping you prefer – butter, jam, honey, fruit). Enjoy :)!
Notes
Many different foods could be added to this batter. I have added bananas and white chocolate chips, and they were great! To do this, once the batter is poured into the pan, place the food right on top of the batter. Finish cooking the same as plain pancakes.